Joe Biden is Down w/ The RIAA
Friday, September 05, 2008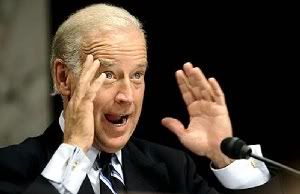 Why couldn't Joe Biden have just been down with OPP like Gary Hart was? Alas, Barack Obama's pick as his running mate, is, and has been, in bed with the RIAA instead. There are plenty of other issues with Biden, including the fact that he's listed as one of the biggest plagiarists of all time and that he endorses government spying on P2P networks, but since I write about music, and since I care about the independent artists out there, let's focus on how Biden being the RIAA's part time lover affects our community.

A recent article on CNET gives some solid background info on the situation, noting:

Last year, Biden sponsored an RIAA-backed bill called the Perform Act aimed at restricting Americans' ability to record and play back individual songs from satellite and Internet radio services. (The RIAA sued XM Satellite Radio over precisely this point.)

All of which meant that nobody in Washington was surprised when Biden was one of only four U.S. senators invited to a champagne reception in celebration of the Digital Millennium Copyright Act hosted by the MPAA's Jack Valenti, the RIAA, and the Business Software Alliance.

Basically, the whole reason the RIAA has the power to make it nearly impossible for sites like Pandora and Muxtape to operate, and the whole reason why it's harder and harder for new artists who don't have major label deals, and who don't have $20 G's to give to a DJ, to get their music heard, is this very bill that Biden sponsored.

From the start I have wanted to support Obama, but he just keeps making boneheaded moves. First there was his distancing of himself from Ludacris after Luda's anti-everyone else song, and now his pick of Biden as a running mate makes it even harder to get on board with him. He smiles nicely, and he has nice broad ranging ideas of "Hope" and "Change," but what have his actions been saying? Many of us in the Hip-Hop community have been backing Obama, but at what point do we stand up and say "hey, who are you really for?"

Personally, Obama had my vote a month ago, but now he doesn't. Now I'm back looking at third party candidates I know don't stand a chance at winning. For all those who say it's throwing my vote away, I respectfully disagree. Voting third party is showing the system you don't believe in it. Being a sheep to a system you don't believe in, and voting for someone you feel isn't really qualified… that is throwing your vote away because all it leads to is more of the same.

Obviously I am not a recording artist, I simply write about recording artists. That being said, I know I have a large readership of recording artists, many of whom have told me in the past that they support Obama. To all those people I have one question - what are your thoughts on him now; have they changed at all in the past month? This is a very real question I'm posing because I'd honestly like to know.


posted by Adam Bernard @ 7:47 AM