Tales From The Discount Bin - Vol. 1
Friday, July 11, 2008

From the overstocked, to the quirky, to the just plain nonsensical, all can be found in discount bins across America (and I can only assume the world). Over the years I have picked up my fair share of noteworthy items from various discount bins and dollar stores, in fact I've collected so many unique items I've decided to start a new column here at Adam's World chronicling these finds, or as I like to call them, Tales From The Discount Bin. This first installment in the series features a very hard to find Hip-Hop Christmas album, an unknown movie with a fairly unbelievable cast, and a baseball player looking to show off his musical talents. Enjoy!









High Fo' Xmas

is an EP I found at an FYE when they were dispensing with their entire cassette tape inventory. Turns out it's a rare classic and the only reason I could cop it for just a couple bucks (I think it was marked at either 99 cents or $1.99) is because the overlords at FYE had no idea that they were giving away such a hard to find EP (the CD version of it is going for over $50 on amazon.com).

High Fo' Xmas

was a Master P project and aside from having some No Limit Christmas classics, such as "Lock Up Fo Xmas" and the title track, "High Fo Xmas," it also features "Jacking Fo Da Holidays," which has Master P doing his own version of Ice Cube's "Jackin For Beats." Of course, even if the music hadn't been any good the cover alone would have made it worth the price. Has any other Santa Claus made em say uuh?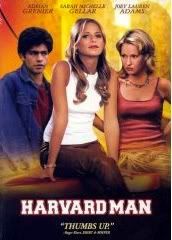 Harvard Man was another FYE find, but at a different FYE. I was flipping through the discount DVDs when I happened upon one that had Sarah Michelle Gellar, Adrian Grenier and Joey Lauren Adams on the cover. I wanted to know why I had never heard of this movie that starred TV's Buffy The Vampire Slayer, Vinnie Chase from Entourage and Amy from Chasing Amy, so I bought it. Checking out the back I saw the cast also included Rebecca Gayheart, Eric Stoltz and Boston Celtic Ray Allen. With the exception of Allen, who was awful, Harvard Man turned out to be a pretty alright flick. I was expecting comedy, but got drama, although it should be noted there is a funny cameo by Al Franken and his daughter (the casting director apparently had a heck of a rolodex). Overall I'm not mad at the $3.99 spent.







Talk about a dollar store find worth talking about! I had no idea former Major League Baseball All-Star Ruben Sierra had musical aspirations, but apparently he did as I found one of his two CDs at a now non-existent dollar store I used to love. This place would just get shipments of stuff in and throw them in bins with a total disregard for whether or not they could sell any of it (which is perhaps why they're now non-existent). Some months there would be old rap albums there and some months… well, some months you'd find Imagen Viva and a smiling, shirtless, Ruben Sierra. Despite this find I'd still rather think of him as the feared slugger with the high leg kick, but lemme tell ya,

Imagen Viva

made one heck of a unique gift when I sent it to a buddy of mine.

Well, that's all for this inaugural installment of Tales From The Discount Bin. I hope you enjoyed it. Until next time, you can find me looking for marked down treasures at a discount bin near you.
posted by Adam Bernard @ 7:46 AM