Happy Face / Frowny Face – Oct. Edition
Wednesday, October 31, 2007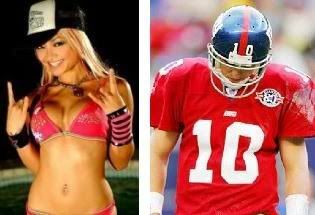 From hot bi-sexuals "wookin pa nub" to my football team's mediocre QB, it's time for me to tackle the highs and lows of October.




Happy Face


A Shot at Love w/ Tila Tequila - Reality dating shows can be some of the greatest pieces of entertainment on earth. Heck, I should know, I was on one and I was damned entertaining! What I love about Shot at Love is that 1) Tila is smokin hot, 2) the bi-sexuality aspect of it with her going after guys and girls, 3) how poorly scripted and non-believable some of the dialogue and situations are ("I set up a carnival in my backyard!" What!?!) and 4) the great job MTV did of casting some interesting characters, ridiculous Italian guy being a standout ("she wanted me to turn her on, so I put my balls in her face") along with country boy (classic meltdown on this week's episode), preppie Johnny Knoxville and a number of the totally fake lesbians. This is the kind of show where you feel really bad for enjoying it until you realize everyone else is enjoying it, too. BTW – if you do an image search for Tila Tequila on Google and take Safe Search off you get some very interesting results.

KRS-ONE to be on Celebrity Fit Club– His stomach's ova, his stomach's ova HIS BELT! Every year VH1 gets at least one Hip-Hop artist on Celebrity Fit Club and this time around they've managed to convince one of the greatest of all-time to sign up for the experience. I applaud KRS for his effort to shape up, not just for his own health, but for the health of his peers. A lot of the 40 and up Hip-Hop crowd still looks up to KRS-ONE almost as a mentor and if you go to any old school Hip-Hop show you'll see a lot of flabby guts hanging over belts. Here's hoping they all take KRS' lead once again, this time in the fight to stay fit. In regards to the actual show it should be fantastic television, especially the first time he gets into a fight drill sergeant Harvey Walden. The over under for how many times we hear "rap is something you do, Hip-Hop is something you live" is 17.

My Latest Right On! Article - I know most of my audience probably aren't big Right On! readers which is exactly why I wanted to bring this up here. On November first the new issue will be hitting newsstands (Chris Brown is on the cover) and it features my three page article on the culture of female degradation that's been created in America and how to curtail the trend (It's Going Down, pages 80-82). I interviewed singers Kat DeLuna, Lil' Mo and Jessi Malay, as well as motivational speaker and life coach Gail Kasper for the piece and I'm really happy with the final edit. Let me know if you get the chance to read it.

South Park - I'd be remiss if I didn't mention the absolutely brilliant "the terrorists have attacked our imagination and now our imagination is running wild" plotline on South Park. Sheer brilliance, and coupling it with the ridiculous "Kyle must suck Cartman's balls" subplot makes it even better. Once again South Park has re-set the standard for all cartoons.




Frowny Face


Eli Manning – As a third generation Giants fan nothing makes me happier than seeing them kicking ass this season. Their 6-2 start has been completely unexpected, but the play of Eli Manning has been so erratic and so lackluster that I simply cannot find a way to throw my support behind him. I want him out. He can only play well using the play action pass and his 58 yard passing performance against one of the worst defenses in the league this past weekend was stomach turning. He overthrew a wide open Amani Toomer in the end zone and still makes errors in judgment that many would consider "rookie mistakes." Since the Giants have him for one more year I say find a QB in the 5th or 6th round of next year's draft and take a year to groom him. Draft some potential late round gems and see if one can take over. Eli is not the answer. We're winning despite him, not because of him and in a league where the salary cap is so tight it makes sense to find a cheaper alternative who can just as well if not better.

The Colorado Rockies - Maybe it was the nine day layoff in-between the NLCS and the World Series, but boy did they stink up the place. This may go down as the worst World Series ever and that's saying something. A buddy of mine who's an Indians fan asked me to admit that I felt my Mets were better than either NLCS team. After seeing what the Rockies did in the World Series I'd have to say hell yes. Even the end of the year, give up seven runs a game, Mets were better than the World Series version of the Rockies. Blech.
posted by Adam Bernard @ 7:56 AM

Artist Of The Week – Dyalekt
Monday, October 29, 2007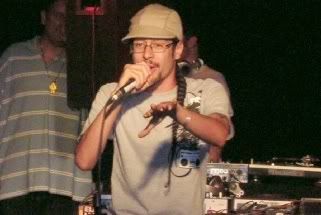 Poet, playwright, actor, educator, MC, multi-ethnic and multi-faceted, Dyalekt lives his life truly embodying the word Artist. Very little that he does isn't in the name of some form of art and with all of those things he throws himself into he always finds some way to work Hip-Hop into each and every one of them. A little over a year ago Dyalekt wrote and starred in his own one man Hip-Hop Theater show titled Square Peg Syndrome and now he is ready to release the music from that show, along with some of his other work, on his debut LP. Though he's currently on tour in Europe with two other members of the Mindspray crew, a Brooklyn based rap group he joined over two years ago, Dyalekt sat down with me before his plane took off to discuss what Square Peg Syndrome is all about, why he feels everyone can relate to it, and how he's utilizing Hip-Hop to create a new way of learning in the classroom.

Adam Bernard: Your album is music that comes from your one man Hip-Hop Theater show, Square Peg Syndrome. Explain to everyone what Square Peg Syndrome is and how you feel you relate to it?
Dyalekt: In corporate terms it's when someone new isn't meshing with the office and there's a manual to combat it. The Urban Dictionary defines it as "a case of extreme persistence and/or stubbornness in trying to force something that just won't fit, especially physically but also metaphorically often caused by a desire for efficiency that ends up counterproductively wasting time and ending with a precarious outcome or damage if left unchecked." It's a pretty simple metaphor; it's about not fitting in. In my case I'm a Black man that passes, of Jewish descent, but technically not a Jew because my mom isn't. I did go to Saturday School, though, and I own a dreidel. Born in Philly, but I don't know where to get a good cheese steak. Raised in St. Croix, but I'm not a born Cruzan. About the only community I ever felt a part of was Hip-Hop cuz the whole point of Hip-Hop is to be inclusive rather than exclusive. You just gotta be dope. Religions, ethnic groups, heritages, all of those things are just universally respected cliques. It's all groupings. Even cats who just try to live and vibe get labeled; Punks, Hip-Hoppers, Hippies, etc. See, we're the "others" on the check box. Just so happens that now there are enough "others" to have their own clique.

Adam Bernard: So despite how exact you are in your Square Peg-ness you're saying the overall concept is a universal one that a lot of people can relate to.
Dyalekt: Well, have you ever felt excluded? Picked last for the ball team? Didn't get the joke, or listen to that band? Judged for your skin tone, accent, size, manner of dress? Told you couldn't join something for whatever reason? Told who you couldn't bang? If so, you should feel me. If not, then I guess you'll just have to like the beats.

Adam Bernard: The music and the show worked perfectly together, but how have you made sure the songs also work as stand alone pieces?
Dyalekt: I get on that microcosm macrocosm thing. Each chapter is a story in and of itself. The play is a bunch of little ideas that create a larger one overall. Every track is its own paragraph. You don't need any sort of context to get the little points I make. Plus the beats jam like Pac Man.

Adam Bernard: Even though this is a solo project you are also part of the large Brooklyn based Mindspray crew. How has being in a crew with nearly a dozen other artists affected you as an artist?
Dyalekt: Art, at its essence, is conversation. I figure that's our job, to find un-stressful ways to relate and connect to each other. Adding more perspectives broadens it. What's dope about Mindspray is how varied the ideas and styles are. Those cats inspire me to try things I never would have thought of. I love rocking with contemporaries that fill the voids my art leaves. That's the cipher, a circle made up of parts that may not seem like they fit together, but they fill up the space because they're malleable. They also expose me to crowds who might not have otherwise given me a chance and plus them kids is DOPE. We got 20 albums under our collective belt, the latest being mine. Notice that it's not a solo record. MilkMoney has heavy influence, as an artist and a person, on this record. I've never seen myself as a soloist, because, what is a soloist? It's like an egotistical fantasy to me. "I'm so special, you should hear the unfiltered mess that flows from my brain." It's not that deep. The two of us blend to make a more balanced approach than I could ever do alone. He makes sense with the scratchity scratch and the wugga wugga that I never could with the blah blah blah and the yes yes y'all.

Adam Bernard: Finally, I know you also teach using Hip-Hop. Why does Hip-Hop lend itself to working in a classroom atmosphere?
Dyalekt: Hip-Hop spreads because it cannot be taught by the traditional method. It is learned through action. Hip-Hop is not a spectator sport. "Teachers" in Hip-Hop play the role of facilitator rather than instructor. What we inspire is the opportunity for autonomy. Students have a chance to create and express on their own, without any restraints. That's what I call Hip-Hop. Afrika Bambaataa intends for Hip-Hop to be a common bond. It creates a unified culture born from rational actions, rather than historical precedent. Living in the now on some Tao. Hip-Hop is a feeling, and though it sounds mad "What The Bleep Do We Know" that idea is understood in several forms of art. Feeling is harder to numerically quantify, which leaves the traditional school system unequipped to gauge students' progress. I'm working on that end, creating a Hip-Hop curriculum that shows positive results. Where do I do it? Where do you need me?

Related Links

Website: Dyalekt.com
Blog: dyalekt.blogspot.com
MySpace: myspace.com/mrdyalekt
MySpace: myspace.com/mindsprayopenmic
Mindspray: mindsprayhiphop.com
Smokin Word: smokinword.org

Labels: Artists Of The Week
posted by Adam Bernard @ 7:53 AM

A Brief Lineage of the Guest Vocal
Friday, October 26, 2007

Taking a look at the current Radio & Records charts, which are the charts that tell us which songs are getting the most airplay, on "urban" music stations six of the top 40 songs, including four of the top 12, feature T-Pain. Apparently the world loves the vocoder, and as much as I hate to admit it the Chris Brown song he guests on, "Kiss Kiss," is straight fire. Seeing T-Pain singing everyone's hooks made me want to take a look back to those who blazed the path for him. With that in mind, today I examine the great lineage of the guest vocal in modern Hip-Hop.

In terms of singing hooks it seems as though T-Pain has taken over Akon's spot as the guy everyone feels the need to get on their album. The belt is his. This will achieve temporary fame and riches for the man who can't actually sing (gotta respect his hustle, though. He couldn't rap, he can't sing, but he still finds a way to make money as a performer). It was only a year ago that every album that came out had a song featuring Akon. Now the Senegalese singer who enjoys dry humping underage girls on stage and only knows one note may have to start tuning up for his next hit, "do you want paper of plastic?"

Before Akon came the true trailblazer of the Hip-Hop hook, Nate Dogg. Hip-Hop's very own Vegas lounge singer crooned his way on to every west coast Hip-Hop album in the mid-90's thanks to his teaming with Warren G on the 1994 classic "Regulate." The title of "guy we want on the hook" was his for a very long time. In fact, his title reign lasted nearly a full decade before giving way to Akon and his high pitched whine.

While those three have ruled the guest chorus division in Hip-Hop, there's another kind of guest vocal, the "rapper we want on the album" guest verse. Lil' Wayne is the current title holder in this division being on eight trillion albums in the past three months (writer's approximation). Before Wayne however there was a long stay as king of the guest verse by Ludacris, who cemented his spot at the top when he dropped his near perfect guest verse on the remix to Usher's "You Don't Have To Call." ("You wookin pa nub in all the wrong pwaces!").

During Luda's reign at the top he was challenged by a contender many may have forgotten about, Loon. For a brief shining moment it looked as if the Bad Boy rapper would get the best of the man once known as Chris Lova Lova, but Loon was a mid-carder and Luda's always been a main event guy, so Loon was relegated to the second tier guest spots and working with fellow Bad Boy artists such as Dream while Luda continued to hold his title until he felt like dropping it.

Not to be forgotten, there's also a women's division when it comes to the guest vocal, but currently that title is vacant. Most recently Nicole Scherzinger of The Pussycat Dolls tried to grab it but was pulled back to the rest of the pack when the lead single off of her solo album flopped. Solo failure is a recipe for disaster when attempting to gain a title as a guest vocalist (see Loon), which is why Scherzinger is now stuck in a pack that includes a trio that constantly has their album release dates pushed back – Mya, Kelly Rowland and Amerie. I call for a bra and panties match!

So while T-Pain may be ruling the radio airplay charts right now, and no one can reasonably say that he isn't, he should be paying homage to Nate Dogg and thanking him for the ability to make a career out of being on everyone else's songs. He should also be prepared to take on all comers as his vocoder act will wear thin very quickly and soon enough another artist will be coming to take that "guy we want on the hook" guest vocalist title belt. Who that person will be… well, your guess is as good as mine.
posted by Adam Bernard @ 7:53 AM

The Neptunes – Now For Adults!
Wednesday, October 24, 2007

When it comes to producing music Timbaland is the king of the pop stars, gaining huge notoriety for working with the likes of Justin Timberlake and Nelly Furtado. Kanye West is the Hip-Hop producer every rock critic seems to love and boy does he enjoy telling people about it. During all this time, however, one production team has played the back and simply made consistently good music. They used to produce everyone's songs and be up in everyone's videos to the point of dominating the airwaves, both audio and visual, with their presence, but now they've grown into a new role. They are The Neptunes. Yeah, you remember them. And over the past few years they've been doing some incredible things in music that have been flying under the radar.

It's interesting to the think of The Neptunes as being non-mainstream, but their most groundbreaking work has continually been passed over by programming directors in favor of songs that cater to the eighth grade dance crowd (Soulja Boy, Hurricane Chris, Rihanna, Chris Brown) and artists who stir up controversy, whether real or faux (like 50 Cent and the aforementioned Kanye West). What's happened, in my opinion, is that The Neptunes grew up musically and are now making adult music. This makes sense, though, as their audience from their days of producing for NORE are now full grown adults wanting something more than the danceable Hip-Hop of their high school and college days. Unfortunately, that audience that's calling for it isn't getting much of an opportunity to hear it.

The Neptunes started their foray into musical experimentation with their first NERD album back in 2002 (one could even argue that their work on Kelis' first album back in 1999 qualified as "adult"). It wasn't as well received by the masses as a more traditional Neptunes project would have been and people openly wondered what they were doing. What they were doing was growing. Last year The Neptunes produced two fantastic albums, The Clipse's Hell Hath No Fury and Pharrell's solo release, In My Mind. Hell Hath No Fury was critically hailed, but sold poorly, while In My Mind, although bordering on brilliant, was never really given a chance. I think the issue with both albums was that they were for adults.

Earlier this month another Neptunes produced release hit stores, Kenna's Make Sure They See My Face. Make Sure They See My Face sees The Neptunes continue with their NERD style of production, crafting creative pop-rock songs with addictive bass lines that, once again, cater to the no-longer-teenybopper crowd. It's a safe bet that if you're cranking dat Soulja Boy Kenna won't be your style. What's distressing to me is that Kenna's album, much like Pharrell's, is getting little to no airplay. This sends a clear message to up and coming artists -don't grow.

In every other aspect of life we are rewarded for growing as people, but for some reason artists are being told not to. "Don't grow. If you do we can't compartmentalize you and easily sell you to a demographic!" The Neptunes no longer have a clear cut demographic, they just create really great music that's always worth listening to. It's sad that anything that qualifies as musically ambitious has been relegated to the bottom of the proverbial crates, but that just makes our job as music fans that much more significant. It may sound silly but as consumers and people who discuss music our job becomes more important with each great release that goes unnoticed. If we don't talk about them, if we don't buy them, if we don't play them, if we don't request them, who will? Radio stations will keep bombarding us with nonsense, sending us to our CD players and iPods. The problem with this is our CD players and iPods have headphones, which create a private environment. This isn't like the 80's where we could carry giant boomboxes around sharing our music (sometimes to the dismay of many around us). Listening to good music has become a private experience. We need to change this and let others experience it, as well. Maybe it's time for a new radio format, Rhythmic Adult-Contemporary 25-40, for new and classic music my generation can get down with without all the kid-hop. Here's a potential tagline – "Because you still love new music, you just don't want to learn some stupid new dance move."

There was no reason for Hell Hath No Fury or In My Mind to flop other than the fact that people didn't spread the word about them. Everyone who enjoyed them enjoyed them privately. Well, Kenna's Make Sure They See My Face is fantastic, The Neptunes are still ridiculously on point, and I'm telling you all this very publicly. Give it a spin, enjoy their growth, and tell a friend to tell a friend. And you know what, if you don't like the album, that's fine, too. Tell a friend about an artist or a group you do like. Keeping your favorite artists to yourself may make you feel like you have an awesome secret the world doesn't know about, but it's time to let everyone in on it.

Related Links

ReactMag.com – My interview w/ Chad Hugo from 2002



Labels: Music Commentary
posted by Adam Bernard @ 7:54 AM

Artist Of The Week – Somobe
Monday, October 22, 2007

Las Vegas. Whenever someone says the city's name bright lights, beautiful women, gigantic casinos and never-ending evenings come to mind. Some might be surprised to know Vegas also has a Hip-Hop scene, or at least it has Hip-Hop artists attempting to be heard. Two such artists are Jon D and Bob-J, better known as Somobe. The name of the group is derived from an old jazz term, So Moby, which meant cool. It would turn out to be the perfect description for the duo with the smoothed out vibe. Last month Somobe released their debut album, The Great Communication, and this week I caught up with the duo, one half of which, Bob-J, is currently finishing up his degree in journalism at UNLV, to find out more about the project, as well as the Vegas scene and why it's so hard to be a Hip-Hop artist there.

Adam Bernard: Let's start this off with a little bit of history. How did you two link up and when did you start creating music together?
Bob-J: We met unofficially in eighth grade. We actually had a class together and we were in the school band together, but we never really talked. He played sax and I played trumpet. Then we progressed into high school and again we were both in the school band and after class he would be jamming on the sax with the drummer and they would need a bass player to jam along with them and at that time I'd just picked up the bass, so I'd jam with them for half an hour after school and eventually that would turn into something bigger and bigger.

Adam Bernard: When did you put down the instruments and pick up microphones?
Jon D: We never really have done that. At this point I'm the only one that raps, but at our live shows there's a lot of live stuff going on. We both play in the show. We're a production team so all of our production has a lot of live instrumentation. It was kind of weird because there's an interview we did a long long time ago, this was at the point where we were just completely instrumental, and the question was do I get offended when people ask me do I rap and I said to this guy "I'm holding a saxophone, does it look like I'm going to rap?" Fast-forward seven or eight years and here I am rappin, but at this point we're still playing the instruments, we've never really put the instruments down.

Adam Bernard: Not much is known abut the Vegas Hip-Hop scene, in fact the only other group I know of from there is The Chapter. With that in mind, what's it like trying to come up in a city where Hip-Hop is so sparse?
Bob-J: I think a lot of it has to do with a couple of years ago there was some kind of Hip-Hop concert out here and I guess someone got shot or stabbed or there was a fight and the local government actually tried to shut down Hip-Hop at larger venues. That happened when the local scene was getting a pretty good buzz and building up and they just shut everything down and said you know what, you can't play Hip-Hop anymore.

Adam Bernard: Wait a minute, let me break this down. Prostitution - legal. Gambling - legal. Hip-Hop - that's against the rules.
Bob-J: (laughs) The government discouraged any venue from holding Hip-Hop thinking there was going to be a fight, a shooting, a stabbing or something.

Adam Bernard: Yeah, because there's ever been any violence at a strip club or a casino.
Jon D: We're still dealing with that today. Even with our record coming out and we're getting a lot of buzz, we're still having a big issue even having a venue out here that will let us play a show. Even though we're clean they hear "Hip-Hop" and it's almost like talking trash about their moms. They're turned off as soon as they hear "Hip-Hop."

Adam Bernard: Talk to me about the album. Why will I like it?
Jon D: The internet is always buzzing with people being sick of what's being put out right now, but in my opinion there's a lot of good Hip-Hop being made, the issue is there's not a lot of new guys making really good Hip-Hop. The guys that have been making really good Hip-Hop for years and years are still making really good Hip-Hop and there's a very small amount of new guys making good Hip-Hop and actually having something to say and I think that something we represent is a new thing for Hip-Hop that gives you that same classic feel but doesn't sound dated. I think if you're looking for something that's going to give you the feeling of what De La Soul made you feel like and what Tribe made you feel like without having to hear De La Soul and Tribe over again that's something we represent.

Adam Bernard: How did you approach the creation of this album? Were there points you wanted to get across?
Bob-J: The interesting thing about that is that we had a whole lot of the album ready to go, maybe ten or twelve songs, and after listening back to it we realized you know what, this isn't good enough, we want to do better. So we pretty much approached the album as improving upon ourselves and improving upon the genre and trying to bring forth something new. Not necessarily changing the game, but bringing listeners something different to listen to besides the deep underground stuff or the really mainstream radio stuff.

Adam Bernard: Finally, outside of Hip-Hop what's important to you, and do those things ever work their way into your music?
Jon D: Me, personally, I'm a visual artist so I do graphic design and that kind of stuff and I've always found that they go hand in hand. A lot of the things that I like to do on the graphic side really come into play on the music side because 90% of the technical issues with the stuff we do in the studio are always technical issues that have a direct counter part in graphics stuff. Both of them kind of inspire each other for me.
Bob-J: I think family is also really important to both of us. I think that definitely goes into the music. There's no cursing in the album. There's no negativity. It's easy for a family to listen to. You don't have to worry about your kids listening to this. Nobody's getting shot, there's no violence.
Jon D: And you know the crazy thing about that is that most people, it takes them a good while to even realize that there's no profanity in the album. They don't even realize it until they've listened to it four times. It's not something that we put out, we just let people come the realization like I enjoyed this album and I didn't even realize that it's not like all the other albums I normally enjoy that have all this negativity and violence and profanity and I still enjoyed it and I didn't even recognize that it wasn't there.

Related Links

MySpace: Myspace.com/somobe
Amazon: Somobe - The Great Communication

Labels: Artists Of The Week
posted by Adam Bernard @ 7:46 AM

Mr. Jones & Me
Friday, October 19, 2007

This Monday I turned 29 years old. Now, some of you may be expecting some well thought out reflection on what it means to be 29 and how it feels to know that as of this moment I officially have less than a year left in my 20's. To be honest, I thought about writing such a post, but then my father emailed me with some life-changing news that I simply had to share. Are you ready for this? Pacman Jones' real name is Adam Bernard Jones. That's right, Adam Bernard Jones! I was overjoyed to read this. The news brought me to a euphoric state. Suspended Tennessee Titan and former TNA tag team champion Pacman Jones and I share a name. Today I got to thinking, what other things do Pacman and I have in common?

Let's start with careers. Jones is suspended for the entire 2007 NFL season due to his numerous run-ins with the law. Coincidentally enough, I, too, will not be playing a single down in the NFL this season. For me it's due to my numerous run-ins with only being 145 pounds. But still, how weird is that? Jones was also a tag team champion in TNA without ever actually wrestling thanks to the Titans not letting him do anything physical that might injure him while being suspended. So basically, he spoke with other wrestlers like Ron Killings and AJ Styles while hanging out near the ring. Amazingly enough, this is something else we have in common as I, too, have never wrestled in a TNA match, but have spoken with AJ Styles (Soak Magazine issue #19). These commonalities are starting to get a bit creepy, I know.

Next up – the law, and I ain't talkin about Kansas City Chiefs standout defensive back Ty Law! When it comes to Pacman Jones his theme song should be The Clash's "I Fought The Law (and The Law Won)." Since being drafted into the NFL in 2005 he's been arrested six times and questioned by police eleven times with the majority of his problems stemming from late nights at clubs, both the regular kind and those of the strip variety. Well, brace yourself for this one folks. Since 2005 I, too, have been pulled over by the police a number of times, including multiple times at the same sobriety check point, where the police have questioned me. "Did you drink tonight? How many did you have? Where are you headed?" And when did all of these instances happen? After nights at various clubs. It's uncanny.

Musically Jones is looking to collaborate on a rap album. I think all of you who read me with any sort of regularity know my penchant for loving Hip-Hop, so once again both Adam Bernards have something in common. This is beyond freaky. Who knew Pacman Jones was the NFL's me? (note, it's not the other way around, I'm older!) Should I be donning a Pacman Jones jersey? Should I make a sign supporting him and attend a TNA show?

Maybe one day I could have Jones on this site, or my radio show, and we could do an interview, one Adam Bernard to another. I bet he tried to grab his name as a blogger address at some point and wondered who this Adam Bernard was that had it. Well, it's me, Pacman, it's me! Let's get together and show the world that our combined powers of being Adam Bernards are potentially unstoppable.

(Man, I really wonder what he's going to think of this if it comes up the next time he Googles himself.)

Related Links

ESPN.com: Pacman Jones
SoakMag.com: AJ Styles Interview
posted by Adam Bernard @ 7:54 AM

I Need a Few Questions Answered
Wednesday, October 17, 2007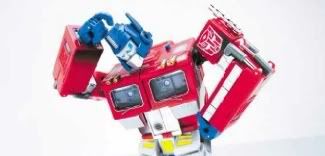 Everyone once in a while I have to sit back and scratch my head when attempting to figure out some of the things going on in the music industry. Just like life in general, the music industry contains some questions that may never be answered. Today I investigate four of those questions. If you can help me figure out some answers it would be greatly appreciated.

Has anyone else noticed Napster was a good thing for the industry? - I can't be the only one to see album sales reached a pinnacle while file sharing was at an all-time high. I can remember everyone, and I do mean everyone, using Napster while I was in college ('96-'00) and we all still bought plenty of albums and tons of artists went platinum. Even with everyone downloading Cash Money Records songs their albums still sold millions. Same goes for everyone else who had big hits during that time. We downloaded songs and then figured out the albums we wanted to buy. Then a drummer from a certain rock band became greedy and the suits followed suit, shutting down free downloading and demanding money for every song online. Well, now download sales are high, though the songs reach far fewer people and because of that have far less of an influence, but nobody is buying albums. Is this because people feel they've already spent money and don't want to spend any more, or is it because people aren't getting to hear enough singles to see if they actually want to own a particular album?

Does the urban music world have the worst bouncer ever? - It seems every time I turn on the TV or radio I get hit with a new artist that just got out of Pampers telling me how to get crazy in the club. In fact, the main prerequisite most labels have for artists creating huge club hits is that they not be old enough to actually get into the club to hear their own songs. Chris Brown and Rihanna are arguably the prince and princess of pop R&B right now and neither can get past a bouncer. In rap the list is getting ridiculous with Soulja Boy not even being able to vote or buy cigarettes and Lil' Mama and Hurricane Chris still being three years away from partying legally. Sure, some young artists are talented, such as the aforementioned Chris Brown and the just now mentioned JoJo, but for the most part these are kids being set up for a huge let down when they can't follow up their initial success. So why has urban radio turned into a sidewalk cipher at Sesame Street? Is it because labels can get teens to sign awful contracts? Is it because young artists are more malleable than artists who've been writing and performing music for years? Would any of this be happening if 2Pac were still alive and creating music? I have a feeling I know the answers to a few of those questions, but it still befuddles me as to how we've come to the point where the old Jermaine Dupri formula of creating hits is now industry standard. Speaking of the kiddies…

Wouldn't all of Rihanna's songs sound better if they were being sung by FeFe Dobson? – Am I the only one completely confounded by the fact that Def Jam didn't push FeFe Dobson but instead thrust Rihanna on us? Of course, monetarily it's worked in their favor so far, but could it have worked out even better for them with FeFe? FeFe had a band, not that Casio keyboard production Rihanna has, and could actually sing (probably still can, we just haven't heard anything from her in a while). I know some people say they're different genres, but they're not, pop is pop and FeFe was dope, I'm reminded of this every time "Don't Go" plays on my gym's closed circuit music video station, so why haven't we heard from her in so long?

What was T.I. doing with all those guns? – Seriously, anyone? Was he attempting to start his own "army of one?" Protecting himself from his alter-ego? Making sure his rubber bands were really well guarded? Or was he just gearing up to tour with Ted Nugent?

Again, if anyone has the answers to these questions please let me know. Some have been plaguing me for years, others for just days, but regardless, your theories can go a long way to putting my mind at ease. Thank you.



Labels: Humor, Music Commentary
posted by Adam Bernard @ 7:52 AM

Artist Of The Week - Rue Melo
Monday, October 15, 2007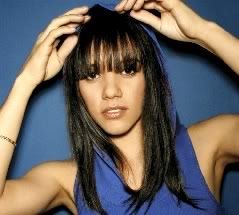 After listening to just the first verse of the first song on tri-lingual beauty Rue Melo's self-titled debut album I was hooked. I knew she was an artist I wanted to know more about. It turns out her music is the result of a mix of influences due in part to her background of being both French (mother's side) and Uruguayan (father's side), as well her loves of both Hip-Hop and reggae. Rue, who earned her nickname, which means "street" in French, because she "kept wandering off," has been traveling and performing all her life. This week she traveled on over my way to sit down and discuss her fascinating background, why she chose to work with a band, and her extremely odd sleeping habits whenever she arrives in a new place.

Adam Bernard: Being tri-lingual do you have one language you think in and favorite to sing in?
Rue Melo: It depends, actually. Sometimes I think in French, like right when I wake up I'm still thinking in French, so I'll say things in English and they'll be backwards. When I talk to my dad a lot I start thinking in Spanish which screws everything up. As far as my thought process English is third on the list but it's definitely the language I speak the most so it's the one that I can probably get through a whole conversation most comfortably with. I actually love singing in Spanish. There's just something about the accent and the words and the way they flow with them music. It flows better to me than English and French. And Spanish music, too, like salsa, it just sounds better.

Adam Bernard: What kind of effect do you think being ethnically mixed has had on your music?
Rue Melo: It has the most affect. If you listen to the music it's not one particular sound at all, it's obviously a blend of all the different sounds that I grew up with. They're not things that I acquired on my own. The things that I acquired on my own would be my love of Hip-Hop music and my love of reggae music. That didn't so much come from my parents, it came from me being dropped in certain situations in my life, but like Edith Piaf I would have never loved if it wasn't for my grandmother's admiration for her and the same thing with a lot of salsa music so it definitely affects me in many ways.

Adam Bernard: A lot of singers right now are coming out with "produced" albums. For example Justin Timberlake and Nelly Furtado went with Timbaland and Gwen Stefani went with The Neptunes. You, however, have a band. Did you go the "produced" route first or did you always want a band?
Rue Melo: I always wanted to have a band but we didn't necessarily have it right away. I used the tools that were around me. My brother had a little Pro-Tools set on his computer next door to my room so I just used what I had in front of me for the time being until I could get something together, but I'm really happy to have a band because I'm telling you it makes all the difference. I would not be happy right now singing with a CD player playing in the background and some little sluts in miniskirts dancing behind me.

Adam Bernard: The band definitely creates a bigger sound.
Rue Melo: Yeah, and plus their creativity spills onto me and there are a lot of things that I don't know about music that they know and vice versa. Well, they definitely know more than me but we can exchange things, they can introduce me to new music that inspires me to write new songs. It's just 100% good all the way. I don't see any reason why anybody else wouldn't want to have a live band.

Adam Bernard: One of the topics that comes up on your album is that you moved around a lot as a child.
Rue Melo: Yeah I did, it's kind of a joke actually, everybody makes fun of me because even now as an adult I still can't really sit still. The moving was mostly my parents. When my parents were still together they were on tour a lot with the theatrical company that they met through. My dad was always involved in projects, my mom was always involved in projects, so we moved around a lot naturally and then being young parents who were young artist parents there wasn't a lot of money for stability so we found ourselves saying oh let's say at so and so's place or so and so wants us to watch their place so we're moving there. Then when we went to New York it was a constant struggle with the job situation with my mom. Plus we also came as immigrants and there's a whole sketchy side to that, you're constantly trying to find jobs that are cool with your status and I'm sure my mom had to struggle with that a lot even though she didn't show it.

Adam Bernard: Other than not being able to sit still, how have all those experiences of coming and going shaped you in your adulthood?
Rue Melo: I can't live in one place for too long. I move my furniture around in my house like every three months. Sometimes I recycle the way I had it at one point, but it will never be back to back. And I live in this little tiny studio so it's even worse, I try to make dramatic changes and turn the living room into the dining area. It's funny. It makes it good for me as an artist because form what I've heard a lot of female artists have a hard time on the road, constantly having to be on and constantly moving around and packing your back and living out of a tiny little suitcase, but that's been my life. I've lived out of a backpack since I was practically born. It makes it easy on management and on me because when we go touring I'm all psyched. They're like "are you OK? Is everything OK?" and I'm like "yeah, all good!"

Adam Bernard: You're like "yeah, I have a bed."
Rue Melo: Exactly! That's what I always say. My thing, too, is the first night I sleep in a new place, this has been my thing since I was very very little, I have to sleep on the couch, I can't sleep on a bed. I can, but I won't sleep the whole night. I guess that probably just comes from always having to get comfortable all over again in a new place and we also moved to some pretty shady parts of new York when we were moving around so it was like OK I need to be near the door in case anything happens I can make a run for it. It's in the back of my mind now constantly. I could be in the safest neighborhood on earth, it's just this weird thing that I do. I have to sleep on the couch and everybody's like "OK, I got the bed," they love me for it.

Adam Bernard: So with all your moving around what is your definition of having roots?
Rue Melo: I think it's not really where you grew up for me because I think I've totally disregarded that you can grow up in one place, that doesn't exist to me. You can even go somewhere for a summer vacation and you grow up there. For me having roots isn't really having to do with how you grew up, where you grow up, or where you come from, it's what background you come from. I come from a divorced family with a single mom that raised two kids, that's my roots. My dad was there, phone calls and stuff, but he couldn't be in the United States, he had to be in France. But I come from a family where the love still comes from everywhere, that's my roots.

Adam Bernard: Is there anything else you'd like to add?
Rue Melo: I am really happy right now and I'd like the world to know that. I'm really good. I want to spread the happiness throughout the world. I think if you tell people you're happy then it might make them a little happier.

Related Links

Website: ruemusic.com
MySpace: myspace.com/ruetracks

Labels: Artists Of The Week
posted by Adam Bernard @ 7:51 AM

Restoring My Faith In H.E.R.
Friday, October 12, 2007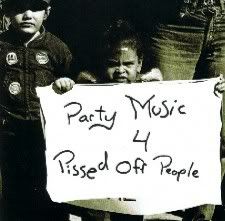 Last Friday I wrote a post about all the things that I felt ruin rap albums. The next night I covered two events, the second of which was a Hip-Hop show that featured The Rising Sun Quest and Sketch Tha Cataclysm, both of whom are former Artists of the Week here at Adam's World as well as shining examples of everything that's great about Hip-Hop.

Walking into the Acoustic Café Saturday evening and hearing Quest freestyling gave me the warm feeling of being at home. There were no gangster allusions, no bragging about money or women, just dope Hip-Hop, some good friends, and a few brews. This was really all I needed to consider the evening a success. I played the back at first since he was in mid-set, but while I was ordering a beer he worked me showing up and being at the bar into his rhyme. That's true freestyle skills, folks! You know it's not written if it's about an event that's happening right in front of you. His set would have been dope even without the mention because his talent consistently shines through when he's on stage, but for me it was a nice shout out and it reminded me that some of the artists I push hard for recognize the work I'm putting in for them and honestly that's all I'm looking for when it comes to my people, just a simple "hey, you're putting in work for us and we see that." Now, obviously working my name into a freestyle is going above and beyond the call of duty, but I'm just pointing out that any form of recognition for work done is appreciated.

Sketch Tha Cataclysm hit the stage next and although he commented the he was under-prepared he still owned the stage like very few other artists I've seen. Simply put, Sketch is the man, and until folks like him, Quest, Vinnie Scullo and Dyalekt are on major labels moving major units I will continue to preach that the best Hip-Hip is unfairly hidden in the depths of the underground and not even in the underground most people know about, but the underground that you need to be in the right place at the right time to see. This is also why I always say if you're sitting in your house or apartment on a Friday or Saturday night and see a $5 show is in the area, GO! You never know who you'll see and there's always a chance you'll discover a talent you would have never heard of otherwise.

During Sketch's set he performed "Free The Radio" and made a side note when introducing it saying all radio sucks "except The Adam B Experience." Gotta love the free plug! Sketch is a true MC, no BS, just lyrics, flow and a want to spread some messages without beating people over the head with them. He's the rare MC that can make you dance while rapping about a revolution, which is why the title of his album, Party Music 4 Pissed Off People, is so fitting. This is exactly what we need going into 2008 and beyond and any label brave enough to take a chance on recruiting an outspoken artist who actually has something to say would be wise to look in Sketch Tha Cataclysm's direction.

While some folks feel "Hip-Hop is dead" and others feel the culture needs a savior of some kind, Saturday night's show proved Hip-Hip is alive and well. It was all the "savior" any true fan could ask for. Part of me feels blessed and lucky to be able to drive around the block and see a fantastic Hip-Hop show like Saturday's, but another part of me realizes everyone can do this in their own cities with their own local artists. It doesn't even take very much effort.

Although some folks may have felt I was a bit harsh on Friday, if I could have dragged them to see Quest and Sketch on Saturday they would have known why. I refuse to settle for "that's how it is" excuses when I know a stadium's worth of artists who consistently prove otherwise. So in essence this entire post has been one big thank you to The Rising Sun Quest and Sketch Tha Cataclysm for reminding me of why I love Hip-Hop so much (and sincerest apologies to Expertiz for arriving too late to catch his set). Long live good music.

Related Links

Adam's World: How to Ruin Your Rap Album
Adam's World: Artist of the Week – The Rising Sun Quest
Adam's World: Artist of the Week – Sketch Tha Cataclysm
MySpace: The Rising Sun Quest
MySpace: Sketch Tha Cataclysm
posted by Adam Bernard @ 7:58 AM

Inspiration Direct From My Side Pocket
Wednesday, October 10, 2007

The other day I bought a new wallet. My old one had become tattered, or more precisely it had become more beat up than one of Houston Alexander's recent opponents, and its thickness was starting to make it uncomfortable to sit down… bear in mind I keep my wallet in my front side pocket. So after going through the bins at the skate stores at the mall, which happen to be the only stores that I could find that sold wallets, I settled on a slim Element one (FYI – it turns out skate stores also have some of the nicest employees. Props to Zumiez on that). When I returned home and was taking all of the filler cards out of it I was given some inspiration from a very unexpected source as one of the cards had a message printed on it.

"Nothing is too small to know, and nothing too big to attempt" was staring me right in the face as soon as I pulled out the little red card that had been in the wallet in place of a credit card. Rather than toss it, I sat there and thought about it. The phrase actually represents the way I try to live my life; learn everything and never settle. It's how I keep myself going on less than six hours of sleep a night. It's why although I have no clear cut, all encompassing, final goal for everything I do I continue to see reasons to do it. If I don't no doors will open for me and no solid goal will ever reveal itself.

I took the card and taped it to my refrigerator next to the quotes from Gandhi, "we must become the change we wish to see in the world," Muhammad Ali, "when you're as good as I am it's hard to be humble," and my double inspirations from GNC and John Milton with a GNC postcard that shows a stack of weights and asks "how's it going?" while on the magnet next to it Milton queries "but what is strength without a double share of wisdom?" The latter two play off each other very well in my life, I love to work out and I love to read and view both as equal in importance. The Gandhi quote is pretty basic, don't be a jerk unless you want everyone else to be one, too. It's very Immanuel Kant, categorical imperative. Finally, Ali was always the king of ego and pride, but if he hadn't been would he have been so successful and popular? Ali's quote reminds me that sometimes it's OK to congratulate myself on a job well done.

The Element quote is now right there with them, a fourth reminder of what life is all about; knowledge and hard work. It reminds me that my dream of one day creating my own magazine may in fact happen, and even if it doesn't at least I'm attempting to create the right pathways in my life to make something like that happen. With that as the backbone of what I do I know something positive will be achieved. The fact that this reminder came in my wallet makes it no less powerful than if it came from a famous person or piece of literature. Inspiration requires no guidelines. In fact, Masta Killa of Wu-Tang Clan once told me he could learn from a baby. Seek the knowledge in everything, find the knowledge in everything.

So now I have another reminder every time I walk into my kitchen of what I should be doing and how I should be living. We all need reminders that we're on the right path, or of how to get on the right path, and it's nice that some of them can be so easily viewable and quick to digest. It's far more enjoyable to read something quickly than be on the receiving end of the occasional smack upside the head accompanied by some "verbal reinforcement."



Labels: Culture
posted by Adam Bernard @ 7:56 AM

Artist Of The Week – Spear of the Nation
Monday, October 08, 2007

Originally from LA, but now hailing from Oakland, Spear of the Nation is both an MC and a teacher. He recently released Spiritalk, an album filled with thought provoking funk, and he also started his own K through second grade school, Spiritworks Academy. As a youth Spear of the Nation was drawn to Hip-Hop after hearing Kool Moe Dee's "How You Like Me Now," and now as an adult he has a goal of building leaders both through his music and through his work with his school. This week I managed to catch him when he wasn't with the kids or in the studio to find out more about his music, what he's learned through his travels, and why he feels the phrase stay in school should also apply to big name rappers such as 50 Cent and Jay-Z.

Adam Bernard: You have a very interesting name. Tell me how you came to be Spear of the Nation and what it means to you.
Spear of the Nation: My name is Sizwe and that translates to Spear of the Nation. As I got older I really understood why my parents named me Spear of the Nation and I think they even saw like wow, this is more than a name, this is actually a movement. It has its origins in South Africa. The Spear of the Nation was the militant wing of Nelson Mandela's organization. I found this out about four years ago, so a lot of the songs and a lot of the movement that was happening in South Africa around that time had to do with revolutionary music. They weren't really out there fighting, but they were using the vibration of the music to uplift people and to strike fear in the hearts of their enemies. I'm definitely trying to be that spear out here and represent something different. You're not going to find too many "niggas" and "bitches" in my music because I feel there's enough of that. We need to speak to the masses, but if we keep speaking to them like they're ignorant we're never gonna lift up.

Adam Bernard: On your album, Spearitalk, you rhyme in languages other than English. What went into the decision to give foreign language Hip-Hop to an American audience?
Spear of the Nation: I produced half the album in France. My wife's brother knew this guy in France that was trying to bring some American artists out there to kind of do an exchange. So I linked up with this cat Jeff LeNerf and later came to find out he's one of the biggest MCs out there right now as far as Paris is concerned. To put it in a nutshell, I truly feel blessed. How everything came together as far as the album, as far as the people I was able to meet and people I continue to meet. It's definitely Spearitalk. It's like I meet these people spirit first and they turn out to be lifelong connections. I had a criticism of the album being too conscious and I was like I can't really change who I am. When you hear the album that's who I am, Spear of the Nation.

Adam Bernard: You're teaching the youth, you're attempting to make positive movement forward. If you could affect just one change in your community, or the world overall, what would that change be?
Spear of the Nation: I want people to have the confidence to know that they can achieve and not continue to settle. I feel we're given images by society or the world and we consume them and run with them like that's who we really are. I want to give the people something stand for. I want to give them something to be proud about. I want to try to put systems in place for our next generations of people and I know when you have a mic in your hand you tend to have a little bit more influence so I'm definitely trying to utilize that, as well. And it's not just a black thing, or a white thing, it's a world thing, it's a human thing and the more I travel that's the one thing that I do appreciate. I was really big on race when I was younger growing up in America, but the more I traveled overseas, I've been to Africa, I've been to France, I've been to London, and it's like really we're the only ones really tripping on that. There's a lot going on, but really outside the world they embrace you in a different way. I feel like a lot of things here are real external and when I was traveling people felt my heart first. A lot of people didn't even know I was from America. That was shocking.

Adam Bernard: With you wanting to instill confidence what do you think of the government programs that attempt to help, but only financially?
Spear of the Nation: I think it's the Band-Aid effect. You've been psychologically abused, you've been emotionally abused, this pair of Nikes isn't going to change everything that just happened to you even though they're making you feel good right now. They're giving you that esteem boost because you feel like you got something fly on and people will respect you more. I feel like we got to flip that whole image, brother, we got to flip that whole image around.

Adam Bernard: How can we do that? What should we try to cut back on to fit in those potentially community altering activities and ideas?
Spear of the Nation: We gotta own more, I think, is really what it is. What I would cut back on is TV. I would try to get more into the prayers, more into self, to be more physical, stop pointing the finger, stop blaming everybody, I don't want to hear about the white man right now. I don't want to hear about anybody but the individual that's making the things happen. Really, I feel we're getting to the point where it's easier to say what someone's not doing than what we can do to make something else happen. I have another vision, too. You know what I want people to do? What if we just said no? What if we said we don't want to do this anymore? We don't want to buy food from this grocery store, we want all organic food. We don't want to watch these programs. We don't want this music on the radio. Everybody in the world turn off the radio until we get what we want. The problem with it is it takes a lot of sacrifice and we've been conditioned to want everything immediately and we all know anything worth having you gotta work hard for. I'm just really trying to be the change, that's why I opened the school. I've been teaching in the independent school system for seven years so I know the importance of the work that we do. This is our second year as Spiritworks Academy and I hope it continues. I like working with the young people because I feel sometimes that by the time they hit junior high it's too late. The most important thing is children have to know they're beautiful, children have to know they're capable and children have to know that they can achieve and they're OK. Like an elder told me, everybody just wants love, man. That's truly the bottom line. People can front like they don't, but everybody wants to be loved. Whether it be a hug, whether it be through appreciation, whether it be through anything, folks just want to know that acceptance peace of being accepted. A lot of these youth I'm dealing with come form broken homes, split households, so they're already dealing with certain things, issue, coming into the school, so my goal is how do I smooth that out and let them know that they're still OK?

Adam Bernard: How can Hip-Hop, and your music in particular, help to get this goal accomplished?
Spear of the Nation: It should be mandatory for 50 Cent and Jay-Z to go to those schools and go talk to those youth. I'm saying the same thing over here with E-40. You know about the whole hyphy movement, but I'm the one working with the youth. Now it ain't just me, don't let me twist you up, but one thing I'll tell ya I don't see E-40, I'm not seeing Keak Da Sneak. I love these dudes, they're good brothers, they make good music, but when you're telling the youth one thing and you're not showing them another thing it's just leaving them confused. "Oh I'm about my paper," OK, be about your paper, but I know your child goes to a private school. I'm just trying to wonder what you're really talking about. It's just confusion right now.

Related Links

MySpace: myspace.com/sizweabakah

Labels: Artists Of The Week
posted by Adam Bernard @ 7:48 AM

How to Ruin Your Rap Album
Friday, October 05, 2007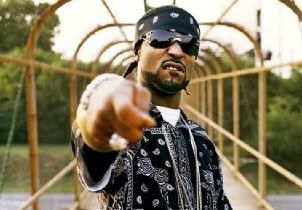 I listen to a lot of rap albums, far too many most would say, but that's part of the job. Usually I have more albums on my desk than there are hours in the day, but thankfully some artists have found ways to make sure they don't get a full listen, or in some cases, any listen at all. For those aspiring rappers out there wondering what makes an album terrible here are some ways to guarantee your album never gets listened to by yours truly.

Make an intro that insults me – There's nothing I like more than being referred to as "all ya'll niggas and bitches" or lumped into the category of "motherfuckers." That really brightens my day and makes me want to listen to you more. Seriously, what do you think you stand to gain by insulting the listener? These are, for the most part, people who have paid money to hear you and the first thing you're saying to them, your actual introduction, is "thanks for buying my album you stupid shitface." If you walked into a restaurant with a date and the waiter came up to your table saying "welcome all ya'll muthafuckin niggas and bitches. I'm here now! What the fuck do ya'll want?" would you be inclined to eat there? Same rule applies for your album. If you're going to make an intro, don't start off our listening experience with an insult.

Show me how gangsta you are – Nothing impresses me more than hearing about how many people you've robbed and/or shot. It makes me respect you more as a man. Ugh. In actuality if you're a rapper talking about being a gangster and doing gangster things you probably fall into one of two categories, poser or moron, because if you're talking about it but haven't really done it you're nothing more than a poser and if you're talking about and you've really done it you're a complete moron for giving the courts exhibit A. A little machismo is OK, but waving your gun on every track is just straight up wack.

Tell me how awesome you are with the ladies – Can anything possibly inspire me more than hearing some rich asshole with big platinum chains around his neck talk about how he gets laid all the time? Please, devote more of your record to making me feel sexually inadequate, it's just oh so inspiring hearing about someone else's sexual conquests while striking out at the club.

Remind me that you're better than I am – You have a rap album, so clearly there are a list of reasons why you're better than me, please take all the time you want to fill me in on those reasons in rhyme form. Dedicate multiple songs to how great you are and how nothing I am. Now, I'm not trying to crush your ego here, but Amir Sulaiman said it best when I interviewed him this summer, "I started to feel kind of silly that the main focus of my art was just about how dope I am. I'm so this that and such and such, and all the metaphors and similes and all the poetic devices I was choosing were really all just creative ways to say that I'm better than you. I thought to myself I don't really talk like that in real life, I don't meet people and say I'm better than you and these are the reasons why." Do you talk like that in real life? If not, don't rhyme like that on your records.

Explain how you're going to teach me something – Very little is as irritating as hearing a rapper tell me about how they're going to open my eyes to reality. I live in reality. Stop being pretentious and just say what you want to say. If I wanted to be preached to I go to house of worship, or a high school.

Get high and record an interlude – Oh I know you think everything you say when you're high is really funny, but it's not. In fact, none of it is unless the listener is also high and perhaps sitting right next to you at the time of the recording. More and more albums have the "I'm so stoned" interludes, or interludes that revolve around weed. They're tired, they're cliché and nobody really enjoys them except the people on the record who are actually high. Save us the 90 seconds of our lives and ditch the pothead routine. There is only one Cheech and Chong and you, my friend, are neither.

Make up a dance or catchphrase and use it constantly – Have a favorite word? Scream it in the back of every track, or even better, dedicate an entire song to it. Also, if you have a dumb dance that goes with your music, again, dedicate a song to it. We all know how well D4L and Webstar did after "Laffy Taffy" and "Chicken Noodle Soup." Clearly this is the path to greatness.

OK, there you have it, seven surefire ways to get your album thrown into the circular file. A special shout out to all those artists who've made my job easier by doing one or more of these things, you are the true heroes of my world.



Labels: Music Commentary
posted by Adam Bernard @ 7:51 AM

Talk To Strangers
Wednesday, October 03, 2007

When we're kids one of the first pieces of advice our parents tell us is "don't talk to strangers." Once we've become adults, however, the "don't talk to strangers" rule needs to be flipped completely. Talk to strangers. Do it often. Wonderful things await you. A perfect example of this happened to me last week.

Last Wednesday I was in New York City for two events; the Smif N Wessun album listening session and the Nikon 4 to the Floor Tour. Smif N Wessun was on the east side while the Nikon event was on the far west side. This meant I had some maneuvering to do. When I left the Smif N Wessun party I noticed a woman in green who seemed to know a few of the other people there, though she hadn't been at the event, and was walking in same direction as I was. Not really knowing where I was going I asked her if I was headed in the right direction for the F train. She said yes, which meant I wasn't a complete directional moron (at least not this time around). I followed up by asking her where she was going, figuring we could walk together and she could then point me in the right direction when we parted ways. As it turned out she was also going to the 4 to the Floor Tour event at Buddha Bar. This struck up an obvious conversation; what were we each doing there?

There aren't a lot of people covering both Duck Down Records (the label Smif N Wessun are on) and 4 to the Floor type of events so we both knew we'd be able to connect on something work-related. It turned out she was in PR. We exchanged info and, since she had to make a stop before heading to the event, we parted ways with the knowledge we'd meet again in the club.

After being slightly lost (damned Little West 12th) we met at the event, where I also met three of her friends, and she invited me to another event in the city that was going on Saturday afternoon at a clothing store called Cockpit. Since I was going in that morning anyways for my buddy Adam Zaslow's A.S.Z. Charity event I said heck yeah I'd be there. Turns out I was also going to score myself a sweet pair of PF Flyers thanks to the clothing store event. The shoes, however, are not the biggest prize of this story.

On Saturday morning I met up with two friends for the charity event. Afterwards we made our way to the clothing store where we bumped into my new PR contact and her three friends from Buddha Bar. After some conversation I tried on a pair of shoes. The girl next to me saw I was having trouble lacing them up (I felt like the slow kid in kindergarten that still eats paste) and offered to do it for me. She was there with a friend and we got to talking and since they hadn't eaten and we were about to eat I invited them to join us. They did. The five of us headed out, at which point I called a sixth friend to join us.

Getting along perfectly we decided to head to a bar. My sixth friend called a seventh friend and while waiting for him an eighth friend just happened to walk by and join us. So suddenly it's 6pm and there are eight of us stumbling into a bar to have a good time. Tracing it all back none of this would have happened if I hadn't talked to a stranger on Wednesday night and then continued to talk with strangers throughout the evening and then again on Saturday. On Sunday I added the new friends who I'd had lunch and drinks with, as well as the folks I had met at Buddha Bar and seen again at Cockpit, to my Facebook and MySpace pages to keep in touch. This is one instance where the internet is pretty fantastic. It would have been quite the effort to keep in touch with six new people back in the day, but that's not a problem anymore.

Rewinding a bit, Saturday night actually ended with us splitting off into smaller parties. Five of us went back to one of my friend's places in The Village where we drank and hung out for the rest of the night on his 13th floor balcony that overlooks the city, but if I hadn't talked with a stranger, and kept talking with strangers, my Saturday would have been much different, probably still enjoyable, but thanks to all the new people involved it turned out to be amazing. So talk to strangers. If they don't talk back it's no loss, but if they do there's a chance you can enhance each other's lives immeasurably. Besides, when was the last time you made a new friend?



Labels: Culture
posted by Adam Bernard @ 7:54 AM

Artist Of The Week – MC Mars
Monday, October 01, 2007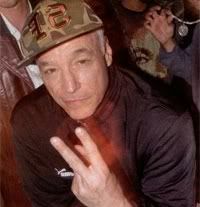 Fifty seven year old MC Mars is like no other MC you've ever heard and no other person you've ever met. He's been a cab driver for over 30 years. He wrote a book about his life as a cabbie titled Don't Take Me The Long Way and recently released a rap album to accompany it titled Letz Cabalaborate. He had the good fortune to be in the studio with George Clinton at one point, a realized dream that he wrote about in his book, and anyone who hops into his cab might be treated to a live freestyle and leave with some MC Mars related material. "I sell records out of the cab and I sell books out of the cab," Mars explains, "I'm actually grinding it out so I'm doing pretty well." MC Mars is also living with HIV. I met Mars at an event for Beyond Race Magazine in NYC a few months ago and this week I linked up with him again to discuss his initial thoughts on the first days of Hip-Hop, how his life has changed since he was diagnosed with HIV, and tripping while on Hofstra University's unispan.

Adam Bernard: Start off by telling everyone what MC Mars stands for and why you chose it as your moniker.
MC Mars: Interesting question. MC Mars stands for Mystic Consciousness Makes All Reality Shine. To be fair, it's kind of something I discovered after the fact, but that's who I really am. Mars is my nickname, it's been my nickname for 35 years now. The first time I tried to MC I used my name Marchal and the guy introduced me as Marcellus, so I just decided OK that's the end of that. Now hang on when I make this explanation. When you talk about the god of war some people associate it with a bludgeoning character, somebody who just wants to fight and that's not what I'm about, but I am somebody who stands for something and somebody who has had to struggle against a number of things, as we all do struggle in life. You know about the HIV and you know about some of the other things that have happened and a name is an important part of who you are, it defines you. I look at this life very much in terms of a hologram and that this life is attached to a whole series of other lives. I believe that we're living these dramas out in different parts of the universe, and in different universes, simultaneously and non-simultaneously. I also believe that there are lives that we're attached to and it's almost as though those other lives are like the planets that orbit the sun and this life is the sun itself in terms of casting out its rays and illuminating the value of consciousness. The notion that life starts with birth and ends with death does not fit into my view of what this is all about. This is all about developing consciousness, and this is all about the battle to develop consciousness, to overcome your weaknesses, and that's where the warrior aspect comes in, it's having the inner fortitude to look squarely at a situation and fight hard to surmount it and create victory out of it.

Adam Bernard: You're a bit older than most of the people jumping into the rap game. What attracted you to Hip-Hop and what made it an avenue you wanted to take to tell your story?
MC Mars: I used to work in Union Square back in 1974, I was repo-ing cigarette machines and in the afternoon during our lunch break we'd go over into the park and smoke a doobie. I was already a poet by then and cats were doing rhythmical poetry. Cats were playing congas and I started writing poems to conga beats and I wrote a whole book of poems like that that I published in 1976 called Early Morning In Manhattan. So to me that was the beginning, it was kind of like The Last Poets type of thing, but a little more literary. I was already studying with Jose Garcia Villa. I mentioned him in the book as one of the people that had a paramount influence on me in terms of my formative years as a poet and my formation as an artist.

Adam Bernard: So you actually were down from the VERY start then.
MC Mars: Yeah, but the Hip-Hop I was hearing, like "Rapper's Delight" and stuff, didn't intrigue me because it seemed like everybody was using the same rhythm. Not until I heard Melle Mel and the conviction in his voice did I say whoa. I made my first tapes in '82 and then when I started driving a cab, I was already in San Francisco by then, I came to San Francisco in late '77 and I started driving a cab here in 1981. I worked as a copywriter for a while, decided I wanted to live a little more unconventional life as an artist and found myself in the street driving a cab and then Hip-Hop really began to speak to me because of the fact that it grew out of the street was part of my own evolution in the street. It became something that I could do in the cab and I would practice my raps in the cab on my passengers and years later I began to freestyle off the radio. Hey, I know you're in Connecticut; did you go to school at UConn?

Adam Bernard: No, actually I went to Hofstra University out on Long Island.
MC Mars: Really!? I went to Hofstra, too, for a year and a half. I have a great story about the unispan (the above the highway walking bridge that connects the two sides of the campus). One of my first acid trips I wound up getting stuck in the unispan thinking that everybody in the cars that were coming by were looking at me and were actually seeing right through me. How ironic now that I've just developed this transparency. That was 1970 - 71.

Adam Bernard: Everybody needs a good unispan story! Back on the topic of your music, when you recorded your album, Letz Cabalaborate, what were your hopes?
MC Mars: I wanted to put out a record that would represent the people that I've been working with over the last three years, the people that I perform with every Wednesday night at The Royale. The whole thing started with the song "Cab Driving is a Video Game." DJ Spin sent me like 15 beats and I'm listening to these beats and one of the beats struck me as being perfect for "Cab Driving is a Video Game" so I started messing around with it, I came up with the hook and then I thought this kid Aebldee would sound really good on the hook and I decided to go ahead and record the song and one song led to another, which led to another, and next thing I know I'm neck deep in it. Now that it's out there and it's tied to the book I'm looking at this as a project, we can do movies off of this. I think it would make a great musical stage piece.

Adam Bernard: One item that isn't gone into in depth in the book but is the focus of quite a few songs on your album is the disease you are living with. How your daily life has changed since you found out you had HIV?
MC Mars: It influences everything that I do and even everything that I think because of the psychological ramifications. I'm on meds now. I was not on meds for a while. I was diagnosed in '88 and went until 2000 without using meds. For the 12 years that I did it without the meds I stopped drinking hard liquor and really cut down on my weed consumption and started living a very healthy lifestyle. Then things just started slipping away. I wound up getting sick in 2000 and was told I had to go on the medication. I went on the medication, almost died from the medication, and decided not to go on the medication, then almost died because I got the PCP-pneumonia.

Adam Bernard: Do you consider yourself an inspiration?
MC Mars: At times I do and at times I just consider myself a guy that's trying to put one foot in front of the other and keep my head up. I want to inspire people by being open enough with my own life to share it in a way that somebody else can look at it and say OK he did it and I can do it, but you can't go over the top with it because too many things in life send you back flat on your ass and let you know how mortal you are and how many foibles you have.

Related Links

Website: MCMars.net
MySpace: myspace.com/mcmarssf

Labels: Artists Of The Week
posted by Adam Bernard @ 7:58 AM