Strange Noize Tour '07 – Hartford, CT
Wednesday, August 15, 2007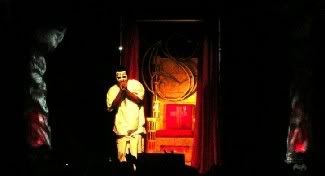 It was supposed to be a fairly easy evening. This past Friday all I had to do was drive up to Webster Theatre in Hartford, say I'm on the list, get in, see an act I've wanted to see for a while now in Tech N9ne (pictured above), and two acts that people wanted me to cover, Kottonmouth Kings and Ill Bill. Unfortunately, very little about covering the show turned out to be as easy as it should have been.

Doors for this event, which was dubbed the Strange Noize Tour as it had artists from both Strange Music and Suburban Noize, were at 6:30pm. Knowing how traffic can be I left at around 4pm and, predictably, what should have been an hour drive took nearly two. Once there I walked in, said whose list I was on and was told that list wasn't in yet. I got on the phone and was told it would be in soon. "Soon" turned out to be an hour later.

Feeling a bit disgruntled I bought a beer to calm myself down. There were very few people over 21 at the show so there were no lines at the bar. I grabbed my beer and started to wander, but security didn't let me get very far. Apparently drinks could only be had in the designated bar area, which meant I had to slam my beer if I wanted to check out the rest of the place before the show started. I took a few minutes to drink up and went on my way, getting back in time to see the first main stage act, Dirtball accompanied by labelmate Big B.

Dirtball is a Suburban Noize rapper who caters to the pothead / skater crowd. He has a rapid fire flow that shows the music of Twista has been a heavy influence on his style. Dirtball did an alright job of opening up, though he committed the same sin a lot of rappers commit; he cupped his hand over the mic, making it nearly impossible to make out what he was saying. Even so, the Dirtball fans in the crowd all seemed happy with the show.

After an interminably long break in-between sets, a break that was magnified by the fact that there was no DJ spinning while they were switching acts, (hed)p.e. hit the stage. I really didn't know what to expect from this group. I'd liked some of their stuff in the past, but it had been years since I'd put on one of their albums and I figured they'd changed in some way since then. Turns out they've changed for the better. They're still a noisy group, but in a good way. They inspire the crowd, they get people moshing a bit, and their interesting mix of being one part Korn, one part 311, one part Body Count actually makes for quite an interesting sound. During their set they talked about the soldiers in Iraq and said that a portion of all the group's merchandise sales goes to an organization that makes sure injured veterans have what they need in the form of wheelchairs and other equipment when they arrive home. After their performance I approached lead singer Jared Gomes, who stage dived twice during his own set, and told him I dug his performance.

Up next was Tech N9ne and more drama for me. Tech was the one dude I was really psyched to see. Everything from his rhyme schemes to his flow to his lyrical content are top notch and as a Hip-Hop head I've appreciated his work for quite some time. Tech came out dressed completely in white and with white face paint on sitting on a throne made up of his logo and the Strange Music logo. Joined on stage by Big Krizz Kaliko and Kutt Calhoun, Tech proceeded to do mostly "get the crowd hype" kinds of songs, which was slightly disappointing, but he did launch into a verse from "The Industry Is Punks" and performed full versions of "Imma Tell" and "Psycho Bitch," so that more than made up for it. It was during Tech's set, however, that security would hassle me for a second time. Last time they had an issue with where I wanted to walk with my beer, this time they took umbrage with me taking pictures. The same large man as before came up to me and said I had two choices, I could either give him my batteries or leave (little did he know I always carry a second set of batteries). I told him I was press and he gave me a look that said "prove it." I showed him the email I had proving it and was led all around the entire place again to meet with more people about getting a photo pass, which I never did end up getting because the place was too packed for the right people to get to the right places. Regardless, I still had my pics from the first three sets.

Another spectacularly long break came between Tech's set and the arrival of Kottonmouth Kings on stage. Ill Bill was supposed to have performed, which would have made for a shorter break, but apparently he showed up at 8pm when sound check was three and a half hours earlier so the people running the show told him he had no set. When the stage was finally ready it was clear that most of the crowd was there to see Kottonmouth Kings anyways and boy were they hyped for the show. Personally, I'm not a disaffected teenage stoner, but the many that were in the crowd related to the music and went bananas for it. I never knew there were so many ways to rap/sing about weed, but Kottonmouth Kings proved themselves to be pros at just that.

I hopped back into my car at around midnight and made the long drive back home. Overall, although this was a show completely aimed at a demographic that I'm not in, I could tell from seeing the way the people were reacting to the songs that folks were having a good time. Before leaving I said peace to the security guy who had harassed me twice during the evening to let him know I knew he was just doing his job and I hoped he knew I was just doing mine. He seemed pretty cool with me after that, so hopefully there will be fewer problems if I ever have to cover a show at Webster Theatre again. While driving home all I could think was the Strange Noize Tour definitely lived up to its name as there was a substantial amount of noise and an equal amount of strangeness.
posted by Adam Bernard @ 7:48 AM