Happy Face / Frowny Face – Aug. Edition
Wednesday, August 29, 2007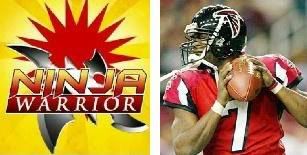 From tough transsexuals to a guy who deserves to be beat up by one, I have a little bit of everything in this month's edition of Happy Face / Frowny Face. What other cheers and jeers column spans such a wide variety of topic matter? None I say, NONE! That's why you come to me for this kind of stuff. On to the smiles and frowns.




Happy Face


Ninja Warrior– Ever since I saw my first episode of Ninja Warrior I knew it was the greatest game show of all-time (and a special shout out to my buddy Flex for finding channel 175, which calls itself G4, on my TV). There are no briefcases to choose from on Ninja Warrior, just four obstacle courses to run through that are so insane only one person has ever completed the entire thing. I caught a few of the newer episodes this weekend and although the first stage seems a bit easier (I'd really love to go to Japan to take my shot at it) it's still freakin crazy. It's also the only show I've ever seen that's billed one of its contestants as "the world's toughest transsexual." She may have been tough, but she didn't make it past the first stage!

R. Kelly Finally Going To Trial - In a seamless segue, let's go from athletic transsexuals to R. Kelly. A whopping half a decade after first being arrested for the now infamous video of him doing all sorts of unmentionable things with an underage girl R. Kelly is finally going to trial for his actions. I guess he was granted the right to a fair and speedy climb up the charts rather than a fair and speedy trial. "He did what with a 17 year old girl? Ah, let him make some albums and have some number one hits. We'll catch up with him eventually." How many millions did they want this guy to make before taking him in? I don't see how this trial can last very long being that we all saw him commit the crime. R used to "step" in the name of love. Wonder what will be done to him "in the name of love" once he's incarcerated. On second that, I don't want to wonder that. Let's think of a big basket filled with puppies and kittens instead. Ah, much better.




Frowny Face


Michael Vick – You all knew I had to address this (and right after mentioning a basket of puppies, no less!). Michael Vick is a disgusting individual. Even the character of Tony Soprano, who had no problem killing human beings, was quick to show love to animals, noting that they never did anything to hurt anyone. America's love of their favorite television anti-hero and his mentality is exactly why we all loathe Vick so much right now. Running a dog fighting ring has not only gotten him run out of the NFL, but will be landing him in jail. Maybe he can share a cell with Maurice Clarett. Four years ago if you had told any GM in the NFL that could have the combination of Vick and Clarett to build with they'd have been ecstatic. Now the two athletes will be filed under "unrealized potential" for the rest of their lives. A few people are grumbling that Vick deserves a second chance after he gets out of jail. Perhaps he does, but not in the NFL. Not making millions of dollars a year as the face of a professional sports franchise. To quote Biggie, "don't be mad, UPS is hiring." Who'd have thought Marcus Vick, who's still an incredible dope, would end up being labeled the smart one?

Missy's Doritos Gig - Missy worked really hard to shed her excess poundage and now what's she doing with her fame? Getting people to eat junk food. I understand the need to make money, but I also understand everyone has the ability to say no to something that doesn't fit into their lifestyle. I would have a lot more respect for Missy right now if she had turned down the Doritos offer and did something more positive for the girls that look up to her. I bet she didn't touch a bag of Doritos while she was trying to lose weight, so why would she suddenly be so interested in having them be a part of her life? Oh yeah, the check. Hope that money keeps her warm at night as her fans gain all the weight she'd worked so hard to lose.

Amy Winehouse - If we stop looking will she go away? Probably not, but since her lifestyle has her projected death date set at about three weeks ago I'm pretty sure that her, ahem, "health issues" will have her out of the public eye soon enough. Seriously, this woman is a mess. She went from being a good looking, promising young singer to a gross 70 pound tattooed self-abusive freak within minutes. I had her pegged as a one hit wonder, and now that she's had that hit I'm just waiting for her to go the way of Gerardo. Speaking of which, where is Rico Suave?
posted by Adam Bernard @ 7:51 AM