A Diary of Adventures in Weekend Revelry
Wednesday, June 13, 2007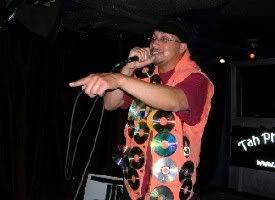 Thursday – Thursday night I hit the city for M3rd, a show put on at Club Midway by visual artist Demostina, who also happens to be featured in the current issue of Foam in an article written by yours truly (pick it up!). There were half a dozen visual artists in the house displaying their work (Demostina, Conscious, Crystal Clarity, ALX, Sylvia and Jari), and live performances from Tah Phrum Duh Bush (pictured above) and 3rd Party. The evening started off slowly, but that was to be expected since the start time was 7pm. I, however, appreciated the early start time because, like the old man I am, I plan my trips to the city in reverse, attempting to figure out which train be able to take home. With this show ending at 11pm I had a chance of catching a train at a decent hour (at least for me).

I arrived at the club with an issue of Foam in hand for Demostina, which she appreciated, said what's up to all the people I knew and met the few that I didn't. As the night moved on the club filled up and I was scurrying around attempting to get people to sign up for my email list. Tah, who is a master networker, made this even easier by bringing me up on stage, holding up an issue of Foam and telling everyone they needed to sign my list. That's one of the things that we love about Tah, if he supports what you're doing he'll be 100% in your corner, and I, as well as the many others he backs, wholeheartedly appreciate his efforts (so buy his album, or at least visit his site). After the show I made the conscious decision (no pun intended) to tell Tah about the book I'm writing. I did this knowing full well I would have to get it done once I told him or I'd never hear the end of it. Call it added motivation.

Oh yeah, and then there were the performances. 3rd Party tore it down with a collection of songs we knew and a few we didn't, closing with a nice freestyle session. Tah rocked the house with his time on stage, bringing out costume changes, props and even showing off a little athleticism during his performance of "Lay The Pipe." He, like 3rd Party, finished with a freestyle session, accepting anything from the audience as something to rhyme about. Once the show was over and the place cleared out I walked to my train with Conscious and Rabbi Darkside (of 3rd Party) and made it home and into my bed at around 3am after a great night. This was one of my favorite events in a long time for both networking and personal enjoyment. I dug everyone I met, enjoyed all the performances, and the atmosphere was perfect. You can check out my pics from M3rd at Imagestation.

Friday – Dual rarities occurred on Friday, my radio show was bumped for baseball (OK, so that's technically not a rarity, but work with me here) and Style Factory was moved from their normal Saturday slot at The Knitting Factory to a Friday date. Less than 24 hours after coming into the city on Thursday I was right back there again on Friday. This installment of Style Factory would feature Mindspray (of course), as well as one of my local favorites from Connecticut, Sketch Tha Cataclysm. The lineup rounded out with Shit Kid Movement, Swordplay, and Stranger Day w/ Haji P. Doing some live art during the performances was Walker Fee, a fellow Mets fan and really fantastic artist. I bought one of the pieces he created during the night after the show.

The performances were enjoyable, as always, and I saw plenty of old friends. More and more when I go to events in the city where I know at least one of the performers I seem to end up knowing a good chunk of the crowd, as well. Back in the day when I'd go to shows my goal would be to meet everybody. Now it seems, especially with my writing expanding to art, fashion and men's and women's magazines, the roles have become reversed and the few people I don't know are now looking to meet me. It's a nice change, and yes, I know I sound a bit egotistical and self-involved when I say that, but if I didn't recognize that I was moving forward what would be the point in doing anything?

Friday night ended with Ill Spokinn taking home the Whose Rhyme Is It Anyway title, and me getting to bed at around 4:30am. The weekend wasn't over, however, I still had an event to make an appearance at on Saturday.

Saturday - Going from dual rarities to dual birthdays, on Saturday I made my way to a birthday party that was celebrating not one but two people's birthdays. Arriving with a friend at around 10:30pm the vast majority of the crowd was already pretty drunk. Since I wasn't drinking I knew this would be a short stay. When it comes to parties there isn't much that ranks lower for the enjoyment factor than seeing people fall down drunk when you're completely sober, it makes you realize some of the ridiculous things you've done in your life. In addition to that fact, the women at the party were, for the most part, fake tanned clones of each other, which is very unappealing to the stone cold sober. My friend and I said our hellos to everyone we knew and left after about 90 minutes or so to hit the beach and play some Frisbee with her brand new light up Aerobie until around 1:30am.

So in the end it was one weekend with very little sleep that was completely worth it.
posted by Adam Bernard @ 7:49 AM