Angelina and the Disappearing Interview
Friday, June 15, 2007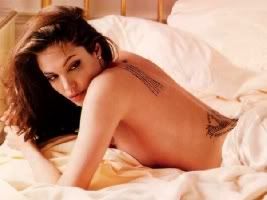 In the world of celebrities versus celebrity journalists there has been an ongoing war since the beginning of time when it comes to intrusiveness. Some celebs deal with it by revealing absolutely everything so as to make journalists unable to get a scoop, other are more measured in what information they'll dole out. A lot of celebs refuse to speak about their personal lives, which can make for a very boring interview. Others reveal just enough to make life interesting. Angelina Jolie, someone who, from an onlooker's standpoint, has nothing to hide pulled a jerk move the other day when she limited not only who could ask her questions, but what questions could be asked. Does the woman who does more charity work than actual work and adopts kids as a hobby feels she has something to hide? (Well, she did have an affair with a married man, let's not forget Brad Pitt was still with Jennifer Aniston when they first hooked up) What makes this especially odd is that the movie she's pimping right now, A Mighty Heart, is about the freedom of the press. Jolie's not the first celeb to pull this kind of a move, however. In fact, I've had to deal with this a number of times.

The first instance of an entertainer being a diva about an interview with me came way back when Prodigy and Jay-Z were having their high profile beef. The year was 2001 and during Hot97's Summer Jam Jay debuted a song ripping into Prodigy. To go with the song Jigga also put up an old picture of Prodigy in a tutu from when he was a child. Originally I was on Prodigy's side on this battle. He'd stood up for New York during the east coast – west coast battle when Jay sat silent despite being dissed by numerous rappers. What happened with the interview we had set up, however, really soured me on the Mobb Deep member.

The Summer Jam incident had just happened and Mobb Deep were preparing to release their next album. Rumor had it there would be a diss track aimed at Jay-Z on it and I was salivating at the prospect of snagging and interview that would get me noticed by the major magazines. I received a phone call a few hours before the interview saying they'd be running late. Even though I had a 9-5 at the time and was trying to squeeze in the interview I was fine with it. When their PR person called back a second time things became bad. I was told that Prodigy didn't want to speak about the Jay-Z beef and only wanted to talk about the new Mobb Deep album. I pointed out there was supposedly a diss track on the album, so it should still be fair game. His PR person replied that if I asked about anything Jay-Z related at all Prodigy would just hang up on me. My first thought was, I'm a journalist, not a groupie and this kind of nonsense wasn't going to fly with me. I even said to the PR person that Prodigy beefing with Jay-Z is a story, Mobb Deep releasing an album isn't, in fact it's downright boring. The PR person became understandably snippy, noting that it was his way or no interview and I replied I no longer wanted the interview.

My second incident with an entertainer asking for me to hold back on questions was Lil' Kim. It was 2003 and Kim was readying La Bella Donna. This was well before the queen bee was sent up north and she should have been in a good mood. Maybe she was, but her PR person insisted that I not ask about the plastic surgery that had altered the queen of Junior Mafia over the years, saying she's tired of answering those questions and feels she doesn't have anything else to say on the topic. Really? Then how come she's sporting a nose that makes Michael Jackson's attempts at reinvention look conservative? It would only be a few years later that 50 Cent would note "thought Lil' Kim was hot till she started fuckin with her nose," on "Love Me" off of the 8 Mile Soundtrack. I was more than a little annoyed, but unlike the Prodigy interview the Kim interview was a guaranteed cover story for a local magazine I was working for so I begrudgingly relented. I'm proud to say that I still managed to sneak in a few tough questions about how her lyrics affect kids.

In the end the only people these entertainers are hurting when they pull the old "don't ask me about XYZ" move is themselves. They end up limiting their press and what press they do end up with is boring and usually skipped over due to a lack of any real information being in it. Worst of all is that when an entertainer tries to limit what the press can ask them it ends up making me angry, and you don't want to be around when I hulk up, it can be one scary scene!
posted by Adam Bernard @ 7:49 AM