Happy Face / Frowny Face – May Edition
Wednesday, May 23, 2007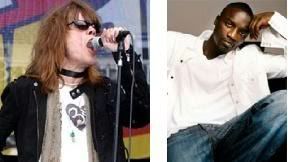 Everyone knows TV Guide's "Cheers and Jeers" section, and numerous other publications have their own version of a thumbs up / thumbs down column. Well, today I've decided to debut mine right here on Adam's World with Happy Face / Frowny Face (please, feel free to applaud my incredible column naming skills). The plan is to have Happy Face / Frowny Face be a recurring column on a monthly basis. So, without further delay, on to the debut!




Happy Face


New York Dolls – I saw the legendary New York Dolls perform this past Saturday at the Joey Ramone Birthday Bash / lymphoma benefit show in NYC and they rocked the house like few bands I've seen. I can't even count the number of live shows I've been to, the number is just ridiculous at this point, but I know the Dolls rank in my top ten of all time and it was great to see a band that was so influential in the 70's rock scene to play like the calendar year never changed. David Johansen is an insanely talented performer and although punk music fans know the New York Dolls to be one of the most influential bands of all time the group should also be recognized as such by the masses. If you get the chance to see these guys perform live, DO IT!

CBS & FX – It's rare to hear me compliment a television network, let alone two of them. Most of the major networks are producing some of the most awful programming known to man right now (Life According To Jim? Only if it's Jim Henson!). CBS, however, came through at the upfronts this past week by renewing the best sitcom on television, How I Met Your Mother. For those who haven't seen it yet rent the DVDs or catch it in reruns. It has the best, and most original, writing on television. Their ability to tell a story from multiple angles in a 22 minute format and keep everything both together and funny is amazing. FX also gets props for re-upping Dirt and The Riches for second seasons. All in all, the three shows mentioned just now make up about half of my non-sports related television watching, so it's easy to understand why I'm giving their networks a great big happy face.

Hip-Hop Is Music – It's high time Braille and crew received some props for all their great work. Yes, Braille has been an Artist Of The Week here at Adam's World, but the good things he's doing for Hip-Hop deserve to be reiterated. I recently heard an advance copy of Hip-Hop Is Music's latest artist, Theory Hazit's, upcoming album, Extra Credit, and it's another funky, positive release that's curse free. Imagine that, a Hip-Hop album that doesn't glorify any negativity, pushes positive movement and fun, and does it over fantastic beats. The best part is although Braille is a Christian rapper not everyone on the label is. Most of his MCs, in fact, are simply artists who never fit in with the gangster / materialism motif so they all came together to make good music you can play anywhere. Whether it's Theory Hazit, Sivion, or Braille himself, Hip-Hop Is Music is creating a catalogue that is fast becoming one of my favorites.




Frowny Face


Akon – Let me start this off by saying I had a very pleasant interview with Akon a few years back when his first album came out, but that being said I get a little more infuriated every time I hear him on the radio. He has zero range, but somehow lands himself a gig singing a hook on every single rap album released. He's treated like the new Nate Dogg just with lower standards in terms of who he'll work with. But with the video of Akon pulling a 15 year old girl on stage and tossing her around like a rag doll while dry humping her making its way to the net a few weeks ago, and the news that Verizon cut ties with him (can you hear me now? No? GOOD!), I'm seriously annoyed that major radio hasn't cut back his spins significantly. I still can't switch the station without hearing him singing. The dude is a borderline baby rapist at this point and there's video evidence to prove it, what else do you need to see to kick him off the air? What's next, an Akon working Gary Glitter? I'm sure they'd love to duet on "Rock and Roll Part 15."

People Dissing Fergie – OK, if you're dissing Fergie because you don't like her music that's one thing. Personally I'm not mad at her for her album, it has some redeeming qualities to it and she attempts a multitude of musical styles, which I can respect. What I really get heated over is when I see these celebrity blogs that call her "Fugie" or just straight up trash her looks. These same bloggers would pop wood (the female ones, too. Don't ask me how, just stay with me on this) if Fergie ever stopped to talk with them on the street, or, Heaven forbid, ran her hand down one of their arms. I know a lotta people are all over the runway models but I'll take this woman over any of them any day of the week. And all those writers who attempt to diss her looks know they'd take her, too, if ever given the chance… which they won't, and quite frankly I probably won't either, but hey, that's not what this is all about. The only message I have here is to the celeb bloggers; stop dissing women like Fergie just because you feel threatened by them. It's obvious and it makes you look really petty.

That's all the Happy Faces and Frowny Faces I have to dole out this month. I'd really love to hear your thoughts on the column, so please feel free to post a comment and let me know if you dug it.
posted by Adam Bernard @ 7:49 AM