From Miss Canada To Miss Music
Wednesday, March 21, 2007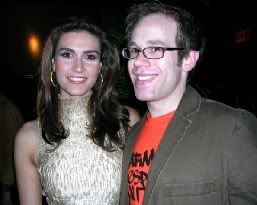 Despite a hailstorm that would cripple the area, last week ended with a bang for me. On Thursday night I was in the city for a work event that featured a performance by, and meet and greet with, Nazanin (pictured above with me), who was Miss Canada in 2003, and on Friday night last week's Artist Of The Week, soul singer Nick Howard, was my special guest on The Adam B Experience. In-between dodging the chunks of ice that were falling from the sky, here's what went down.

It only took six words placed in the correct order to get me into NYC on Thursday night; free food, open bar, Miss Canada. Rearrange those words and it's not quite as inviting (does anyone really want Canada food?), but as is I was on a train and ready to mingle at The Plumm, looking forward to seeing Nazanin up close and personal. In addition to her beauty queen work Nazanin is also a musician and activist who was born in Iran but had to flee the country at a very young age. Also in the house were various folks from Bodog Music who I spoke with at length, and I even was able to meet and network with the group publisher from Niche Media (which is home to such publications as Gotham and Hamptons).

So could Nazanin sing? Do you really care when she's that hot? Yes, of course you do, we don't need another pretty face who can't sing a lick. The good news is she has some skills, though as one of the Bodog people pointed out to me during a song when Nazanin slowly gyrated a bit "she should do more of that, A LOT more of that!" It's a bit paradoxical to think of her as someone looking to turn us on while on stage since her music is filled with political messages, but hey, she'll have our attention and I'm not complaining at all!

Since the club had multiple events that night ours ended early, which was nice for me since it meant I'd get home at what passes for a reasonable hour for me (midnight-ish). As I walked outside the club the rain / hail was already starting to come down. Rather than look for the subway station I had come in from, which was a couple blocks away, I was pointed in the direction of one that was on the corner I was closest to. It was at this point that I realized a good chunk of the NYC subway map is in my head because I said "it's not the one I'm looking for, but I can get home from here."

The hail didn't stop between Thursday night and Saturday morning. This was unfortunate since I had my radio show on Friday night and I was picking up a guest from the train station. Nick and I agreed that the show would go on rain, sleet, hail, snow, which was appropriate since mother nature seemed to be throwing all of those things at us at once. I live close to the train station, about a seven minute drive, but what made things interesting on Friday was that my windshield wipers were useless due to them being caked in ice. So just picture me driving down unplowed streets in a hailstorm with no windshield wipers. Somehow we survived.

The show went off really well and we proved that the best humor is definitely improv. Yes, the glory of live radio is that sometimes you will take a call on the air from someone that has no intention of talking about what's going on on the show and this was the case when I answered the phone and it was the morning guy asking for the phone number for security. What made it even better was I didn't have the number. Note to all the crank callers out there, this was funny, you are not. If you're gonna crank call, step your game up!

After the show the weather was at the height of it's crappiness, but we were heading to a bar anyways since it would be another 45 minutes before the next train to Manhattan and it didn't seem to make much sense to just hang out at the train station when Bravo is a 15 second walk from it. If you've ever wanted to have an entire bar to yourself go during a hailstorm / blizzard. It was literally us, a handful of other people, and the wait staff. There were more chairs at the bar than people to fill them. Nick and I had a couple drinks and then he was on his way back to NYC. I hopped back in my car, at this point my wipers were frozen to the windshield beneath about a two inch thick layer of ice, and I was off for home at a rampaging five miles an hour, "running" (does it really still qualify as "running" at that speed?) every red light along the way.

In retrospect it seems incredibly appropriate that the week I met Miss Canada I was also blasted by a blizzard. Oh, and if you're wondering about the headline to this post, track one of Nick Howard's album, A Rip In The Sky, is a song titled "Miss Music." You can feel free to applaud my wittiness now.
posted by Adam Bernard @ 7:59 AM