Vinnie Scullo Bio (2006)
Friday, November 24, 2006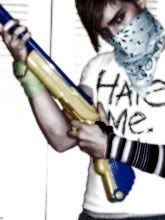 For three years Vinnie Scullo worked as an extra in Hollywood. He could be seen way in the back in TV shows like CSI Miami, Scrubs and That 70's Show. Playing the back, however, isn't really Vinnie's style, in fact, his extra work was "just a way to support myself without working at Fatburger so I could fund my music." In the end it turned out to be a lot more. After seeing many of the celebrities in Hollywood for who they really are he now lives his life by one rule, don't be fake.

With equal parts vitriol and sense of humor Scullo breaks down both the Hollywood lifestyle and modern society in general in his songs. Whether he's taking a shot at an actor like Ashton Kutcher, who personally got Vinnie fired not just from That 70's Show but also from his casting company, or he's showing how the Hollywood lifestyle has creeped its way into both Hip-Hop and everyday American life, Vinnie's lyrics keep his audience glued to his every word.

Antiestablishment ideas are also peppered throughout Scullo's rhymes as he's completely unafraid to take on any of the ideologies that he finds disgusting that have become societal norms in our fame obsessed country. Vinnie knows there's a large group of people who don't want to shop at high end department stores, or feel the need to drive the fanciest car, and he's on a mission to let everyone know that's just fine, be an individual, embrace who you really are, not what the commercials and billboards are telling you to be.

Additionally, Vinnie's also been known to tackle family issues in his music, of which he openly admits he has many. His grandparents were initially going to fund his college career until he told them he was looking to rap, at which point they told him if he did that he'd never see a dime from them. Vinnie eventually enrolled in college only to drop all the classes before the first day and grab the tuition refund to buy studio equipment and chase his dream. His grandparents never forgave him. "I was cut off entirely from my family and pretty much disowned," Vinnie remembers "I wasn't allowed at my Grandpa's funeral and my flowers were sent back." To throw even more salt into the wound Vinnie's father, the man he credits for teaching him to go for his dream, passed away from Cancer shortly thereafter. "He was the only one who ever taught me to 'go for the risks or you'll end up going for the wrists.'" Vinnie continued to go for the risks.

Vinnie returned back to his hometown of Cleveland, Ohio, after his stint in Hollywood. In 2006 he released the double CD

Hollywood Menace – The Hills Have Lies

, and at the end of the year he came out with another album,

See You At The Gap

. Both albums feature original production from Vinnie which showcase his unique taste in samples that range from classic 80's songs to modern rock hits to cartoon themes.

For Vinnie Scullo the time has come. After putting in years of work being in the background he's finally ready to be front and center.
posted by Adam Bernard @ 12:01 AM