He's Bringing SexyBack
Friday, September 08, 2006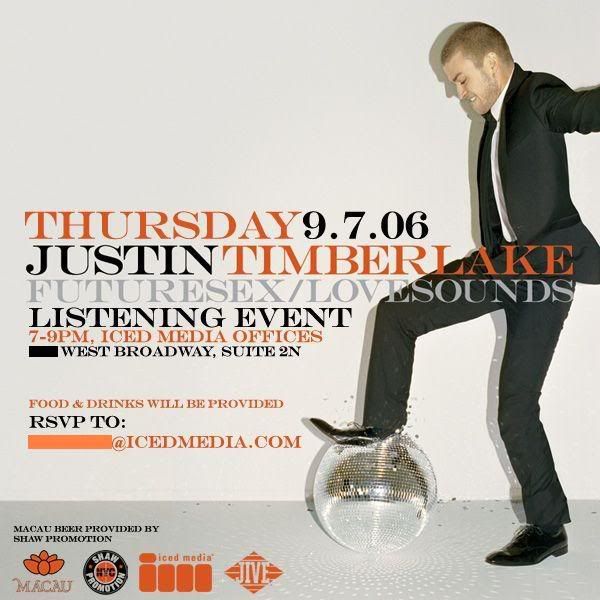 Last night I was one of the three dozen or so writers in attendance for the Justin Timberlake album listening event. Anyone who's paid attention to music at all has seen the growth and maturation of JT. From "cute" boy band member, to his attempt to channel a more urban sound, to now a full grown adult who is making *gasp* full grown adult music. The most interesting aspect of JT right now is that after spending the better part of a decade trying to fit into boxes, more than likely label-mandated boxes, he's found a sound of his own and finally sounds like he's completely at home with his music.

Ever since he graduated from N*Sync I felt that a lot of Timberlake's songs sounded forced. They all had this vibe to them, with a few noted exceptions like "Cry Me A River," that he was going through someone else's motions. Hearing him steal the show on his numerous guest spots on other artists' songs only worked to reinforce this feeling. His guest spots seemed to be chosen by him while his full length songs seemed to have been chosen by others. Of course, he was also young, he could have simply not fully known where he was going with his music at that point. I can think of a lot of rappers that can do some amazing guest spots but lack the ability to create full songs. With Futuresex/Lovesounds JT has finally turned those golden guest spot moments into full length songs and guess what, it's pretty darned funky.

OK, so right off the bat, just so you don't think I'm insane, I will say his songwriting ability isn't exactly going to give Bob Dylan, or even Jacob Dylan, a run for his money, but that being said there are plenty of songwriters out there who write great, powerful, lyrics but can't weave them into a piece of music so as to make anyone want to listen to them. So while Justin's lyrics may be weak they're more than made up for in the beats and vibe of the album.

As we all stood around the ICED Media offices chatting about the record and listening to it in the background one thing entered my mind, JT now fits into a genre of music that suits him perfectly, Hipster Pop. Yes, I may be inventing that category, but it makes perfect sense. He's no longer a kid, he's no longer that pop boybander, he was never really an urban artist, but he fits in perfectly well with the hipster crowd, in fact he's one of their icons. That hipster crowd of socialites and socialite wanna-be's who spend big bucks on overpriced drinks at trendy bars on Wednesday nights are the exact same people who dug Justin back when he was in N*Sync so it only makes sense that they rock out to his music now. The fact of the matter is he figured that out and created an album solely for that group of people. This is the exact vibe I, and many of the other writers, felt while standing there with our drinks listening to the CD. We were only a few scantily clad women away from this event feeling like it was being held on the loft at BED.

Futuresex/Lovesounds is by no means perfect, I would have liked to have heard a few more slower songs (hey, "Gone" was amazing and I'm not afraid to say it), and as I mentioned before the songwriting isn't exactly going to change the world, but it's a FUN album. Judging by this effort, and recent hits by Fergie, Beyonce, Fallout Boy and Panic At The Disco, I think the pop world is beginning to remember what fun is all over again and it's kind of nice. I like being able to turn on the radio and have a good time. Even if the lyrics won't change the world doesn't the act of having fun breed a little bit of positivity? And isn't that all we're really looking for a lot of the time? There are so many things in this world we do have to take seriously, why should our music bum us out, too?
posted by Adam Bernard @ 10:05 AM