Welcome to your weekly dose of pop world musings. Covering all things pop culture, this week Pop Shots is hitting you with thoughts on everything from Demi Lovato being back on the market, to Carrie Underwood already thinking about Christmas, to Justin Bieber and Chance the Rapper being charitable, and since this is Pop Shots you know everything is seasoned with a little bit of attitude.
* Demi Lovato and Max Ehrich have called it quits, ending their engagement after two months. The appropriate thing to do is respect their privacy … and now that I've done that for a solid 15 seconds – holler at me Demi!
* Jason Derulo has become the first solo artist to hit #1 on the Pop Songs Chart in the 2000s, 2010s, and 2020s, and is the first male solo artist to do the feat over any three decade span since the chart's inception in 1992 (which only adds one more decade into the mix). He will still feel the need to sing his name at the beginning of every song.
* Mandy Moore and husband Taylor Goldsmith are expecting their first child together. Honestly, anytime Mandy Moore is in the news I like to use it an excuse to remind everyone of the time some guy in Queens found a mosaic of her in the shower of the apartment he'd just moved into.
* Madonna will be releasing a perfume inspired by her Madame X album/character. Based on her age, I assume it will have at least a hint of mothballs.
* Jeezy now has his own talk show. Titled Worth a Conversation With Jay "Jeezy" Jenkins, the weekly show will air on FOX Soul, with the first episode premiering October 14th at 10pm EST. Hey Jeezy, the author of ChemBro – Embracing Beastmode to Beat Cancer is available if you're looking for some guests. Also, the 14th is the day before the author's birthday. Just sayin'.
* We're still a few weeks away from Halloween, but Carrie Underwood is already in the Christmas spirit, having just released a holiday album, titled My Gift, and announcing she'll be having her first holiday special, which will air on HBO Max, date and time TBA. If Carrie Underwood is going to try to take Mariah Carey's crown as the queen of Christmas … based on the lyrics of "Before He Cheats," this could get ugly!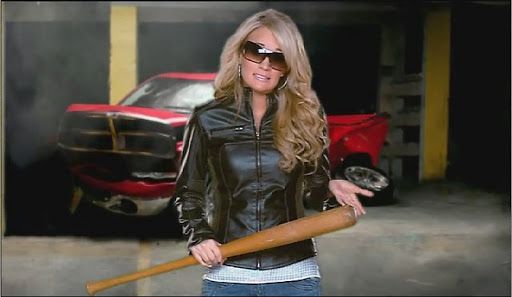 * Five Finger Death Punch will be releasing a 17-track greatest hits compilation that will feature five previously unheard tracks. This begs the question – can it really be considered a Greatest Hits album if more than a quarter of the songs have never been heard before?
* There's going to be a documentary on Billie Eilish coming to theaters, and AppleTV+, in February of next year. So enjoy footage of her younger years … because being that she's only 18, that's the only kind of footage that exists.
* Justin Bieber and Chance the Rapper have partnered with Cash App to give away a total of $250k to fans affected by hard times. The ghost of Dusty Rhodes immediately showed up to collect.
That's all for this edition of Pop Shots, but come back next Monday for more shots on all things pop.

Labels: Pop Shots