Vid Pick: Tami Neilson – Stay Outta My Business
Friday, May 11, 2018

Powerhouse vocalist Tami Neilson has a message for those looking to stick their nose where it doesn't belong – "Stay Outta My Business."

A big, bold anthem that combats criticism with confidence, "Stay Outta My Business" is the first single off the New Zealand, by way of Canada, singer's upcoming album, SASSAFRASS!, which is due out June 1st.

Wanting to know more, I caught up with Neilson to ask her about "Stay Outta My Business," as well as how social media has affected people being in each other's business, and what one of her ultimate goals was for the video for the song.

"Stay Outta My Business" is a big, bold, soulful song that sounds like it has a lot of raw emotion behind it. What was going on in your life when you wrote it? (and yes, I note the irony of getting all up in your business while asking about a song titled "Stay Outta My Business")

Haha! I try to avoid saying that in interviews.

It came out of a year of extensive international touring. (It was) the first time I've had to be away so much since having children, and while I have always experienced the usual types of sexism associated with the music industry – comments on appearance, capability, etc. – it never hit me in full force until I became a mother.

Those societal rolls we are assigned based on gender are so deeply ingrained, even though it's 2018 and we think we've made progress.

So I spent a good 18 months feeling weighted down by the judgements, and opinions, put on me by strangers. It was crippling, until I realized that these people don't know, or care, about me, my children, or my husband, and what brings our family the most happiness and fulfillment.

It took a lot of mental work until I came into my confidence, and this song was a celebration of that.

Do you feel that social media has changed the way people feel about being in other people's business, and how much we should know about those around us?

Absolutely. We have people in our pockets everywhere we go, if we choose to, and I've realized that is the crux of it – it's a choice.

Social media is an important part of my work, and my business. It's also an important part of my personal life – living on the other side of the world from my Canadian family and friends – so it's wonderful to be a part of each other's lives that way. However, I had to be more mindful, and intentional, with what I choose to share, especially as a parent who has a career in the public eye.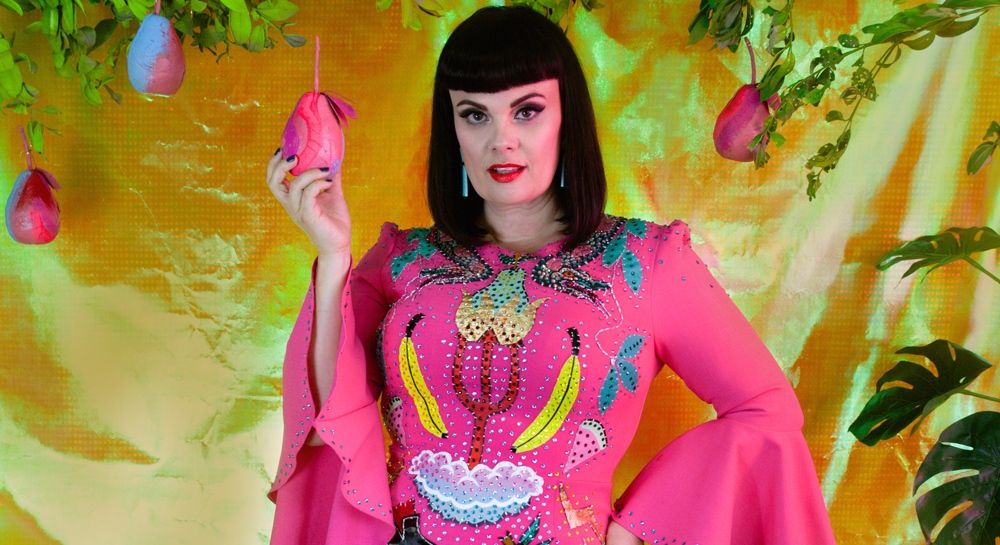 What inspired the quasi-grocery store backdrop that's featured in the video?

I worked with my director, Anna Duckworth, on the concept. I wanted it to take place in a grocery store. I loved the juxtaposition of bold, glamorous, sassy women taking over a place that is traditionally viewed as predominantly for women in the role of the stereotypical Stepford wife – a place where a lot of gossip is spread, where you are judged for what you are buying, what you are wearing, if your children are misbehaving – and turn it on its head.

I notice there's also a rotary phone in the video. When was the last time you'd used a rotary phone, and did you have a tough time finding one?

I haven't used one in a long time. We used to have an olive green one when I was a kid.

My wonderful production team, under the guidance of my producer, Morgan Leigh Stewart, sourced those props.

"Stay Outta My Business" is off of your upcoming album, SASSAFRASS! What else do you have in store for listeners with this release?

My albums are a mix of soul, rockabilly, blues, country, and gospel. That is the palette I always paint with, and all those genres are part of the same family, they were all born in the same place, so it feels natural to me hop from one to the other.



Your vocals are old school, and your vibe is awesomely retro. Do you have a favorite era of music, and if so, what attracts you most to that particular era?

I love the music of the 1940s-1960s. It was such an exciting, influential time in all of my favorite genres, and it has heavily influenced all music that has followed.

I love that it was all raw talent captured in a very simple way – real instruments played with vocal takes live off the floor. No Auto-Tune, no tricks, and limited technology. What you are hearing is so immediate, rough, and ready.

Music, and rotary phones, aside, what else would you like to bring back from the past, be it a look, a sound, a product, or an ideology?

While I love the music, and the beautiful aesthetic, of the 1960s – even in the most casual photographs people always look stylish! – it was an oppressive society for women and minorities, and we are still fighting for that equality today, so I'm grateful to be able to enjoy wearing the clothing, and listening to the music, while being a woman in 2018!

For more Tami Neilson, check out tamineilson.com, and follow her on Facebook, Twitter, and Instagram.



Labels: Vid Picks
posted by Adam Bernard @ 7:00 AM