Vid Pick: Bishat – Dream About Me
Friday, May 25, 2018

Mixing pop, R&B, and electronic music to create a captivating new sound, Bishat is poised to take the music world by storm.

Of course, it wouldn't be the first time an artist from her home country of Sweden changed the game.

Since the 1970s, Sweden's pop artists have consistently been in the driver's seat when it comes to pushing the genre forward, whether it's been ABBA, Roxette, Ace of Base, Robyn, Max Martin, The Cardigans, Tove Lo, Zara Larsson, Swedish House Mafia, Alesso, Avicii, or a host of others.

Bishat's latest single is "Dream About Me," which is off her recently released EP, Q417. Wanting to know more about her, and her music, I caught up with Bishat to ask her about her EP, the lessons she's learned through heartbreak, and which artists she was obsessed with as a kid.

"Dream About Me" is off of your debut EP, Q417. All of the songs on the EP represent a tough time for you – the 4th quarter of 2017, when you broke off your engagement, and had no place to call home. What do you remember about how music helped you handle everything you were going through?

It was something to focus on, a mission to keep me moving forward.

Not having a 9 to 5 life, which most days I'm thankful for, proved to be difficult because when you slip into a depressive state, not having anywhere you need to be, or routines, or context, it's easy to just lock yourself in and stay there. So I'd book in-studio time to force myself to go out.

Working on the music, and digging up my feelings, and putting my everything into it, was also a great way to deal with things. Everything that's inside you needs to come out, at least for me. I have to vent, or I feel like I'm gonna burst, and music, or just writing, has been my favorite outlet since I was like 7 years old.

Do the circumstances that surround the creation of "Dream About Me," and the rest of the EP, make these songs triumphant, tough to sing, or a little bit of both?

Definitely both.

I mean, I'm so proud of myself for even putting it together at all 'cause I was a mess, but also I'm really proud of the work, and feel like it's the best I've done so far.

For the first time the response – even though, of course, it's important – wasn't as important for me as it has been before. (That said), the response has been so great. It's really beautiful to hear so many people connecting with it.

I did this EP for me. It's a work of necessity more than anything else. At my release party I performed the whole thing from start to finish, and once I got through "Give You Up" a friend came to hug me, and tears just started to stream down my face. Tears because it was such a release of tension, and emotional overload, and like I let things go a little by putting the music out in the universe.

I can imagine having a few shows where some songs will be hard to sing, but they're beautiful to me because it's my life in all its mess and glory.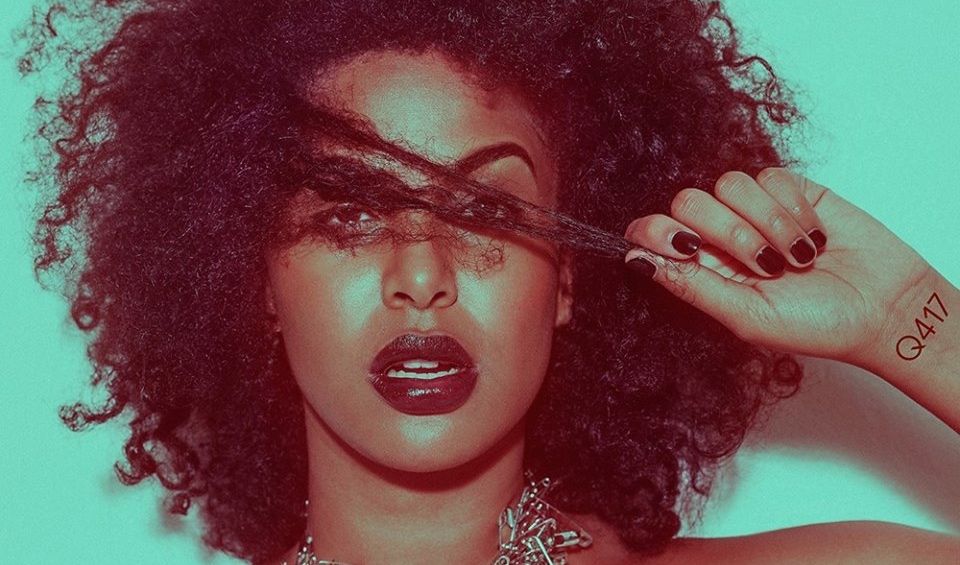 What's the greatest lesson you learned through heartbreak?

To not expect someone else to make you happy.

That may sound bitter, but it really isn't.

The older I get the more I realize you can't fix yourself with others, and that expectation that someone else will make you happy is too heavy of a burden for anyone to bear, and you will get disappointed because people change. And (change is) good, but if you try to hold on to how someone made you feel, and then freak out when they evolve, or love you and support you in a different way other than you're used to, then change becomes hard, and you need to evolve together, and separately, to be in a healthy relationship.

So I guess I learned never to stop working on me, but I can still fall head over heels in love. I'll just try and remember to keep doing stuff that makes me happy in the way I need, as well as care for the other.

What was the concept for the video for "Dream About Me," and how do you feel it represents the song?

The concept is about patterns in relationships. Being too close, and then growing restless. The need for change and the fear of it. Like the lyric, it's almost contradictory in a sense – "I want you close, your skin on mine / Don't wanna know where we divide / Be wrecked without me / then dream about me" – wanting to be inseparable, but already expecting the end. That internal tug of war, and that back and forth, needing something that doesn't work. So the idea is straight from the words of the song.



Since you're a fresh face on the scene, let's dig a little bit into your history. What were some of the first songs you remember singing along to as a kid, or performing in school talent shows?

I was obsessed with Spice Girls, so me and four girls in our class formed our own Spice Girls group, and we'd rehearse every day, and perform all their stuff every week at school.

{laughs}

Poor students, it must have been pretty damn repetitive to watch.

When I got older I'd still always perform, but then it was with songs that Robyn, or Alicia Keys, did, and sometimes my own songs that I'd written.

I was pretty set on what I wanted to do even back then. 

Finally, if you could pick any two artists/bands to tour with, who would they be, and why?

Solange 'cause she's just brilliant. I love her music, and her mind. She's so creative, and basically, I want to be her best friend. 

Rihanna because of the same reasons really. She's iconic, and unapologetic, and badass. We'd have a pretty good time.

For more Bishat, follow her on Facebook, Twitter, and Instagram.



Labels: Vid Picks
posted by Adam Bernard @ 7:00 AM