The Hues Brothers – Phantom Vibrations
Friday, April 20, 2018

Take a heaping dose of Brooklyn hip-hop, and spread it over masterful production from one of the UK's finest, and you get The Hues Brothers, a unique musical project from longtime friends Rabbi Darkside and Mr. Simmonds.

Rabbi Darkside has been a pillar of NYC's hip-hop community since the turn of the century, and toured the globe numerous times, while Mr. Simmonds has a similarly long resume, and equally as stamped passport. Teaming up to become The Hues Brothers, they've combined their favorite sonic elements hip-hop, trip-hop, jazz, and downtempo to create a new sound – a sound that can be heard on their just released album Radio Activity.

The lead single, and video, off of Radio Activity is "Phantom Vibrations," a cautionary tale about our plugged in world. Wanting to know more about the song, and the project as a whole, I caught up with Rabbi Darkside to ask him about all things Hues Brothers.

"Phantom Vibrations" is a song about the dangers of a plugged in, screen obsessed, life. When did you find yourself caught up in this lifestyle, and have your "Whoa, I need to disconnect" moment?

There was a night when I had a dream in the form of an Instagram feed. That was a really unsettling nocturnal wake-up call, and a sign that the imprint of phone use/social media had infiltrated my subconscious.

This technology, both hardware and software, is built on principles of addiction. They are designed to hook us to information loops, to validation cravings, and are linked to neurochemical responses.

Like all addictions, when we're in the midst of abuse it's hard to recognize the pitch of descent. There are so many holes to fall into with screens and apps and devices.

It's about that feeling when we're like, "Wait, what did I even come on here to do?" Every time I get that sensation it's a reminder to unplug.

It's one thing to recognize a problem, it's another thing to solve it, and in the third verse you look to provide some solutions. Do you have a favorite cure for "Phantom Vibrations?

It's about conscientious consumption, and making sure devices serve us as tools, not the other way around.

I have rules and boundaries, sacred spaces I try to keep – No phones in bed. Don't touch it till after I've journaled and meditated in the morning. When I go for runs I use my iPod Shuffle 2 for music, and leave the phone at home. I take a social media fast for at least a month of every year.

Ultimately, it's about moderation, which is tough for someone like me who is a person of extremes, and a working artist who is running a label while constantly promoting events that are tied to my livelihood.

Oh, but maybe the most powerful antidote – BOOKS. Analog reading and writing.




What have been some of your favorite reactions to the song? Have you had anyone tell you it inspired them to disconnect?

More so sentiments of … "connection." Relatability, acknowledgement of a struggle lots of us feel, especially folks of my age range who knew life sans smart phones. But my favorite reactions may be from our video director, Frankie Turiano, who responded to the quite literal song lyrics with a visual concept that is abstract, metaphoric, and kind of disturbing, and from the Layerframe team (chiefed by Eena Daou) who did all of the incredible cover art/graphic design inspired by the music. They also came up with the term "neon dystopian jazz" upon listening, which is part of the album tagline – "Neon dystopian jazz for the boom bap futurist."


For this project you've teamed up with UK producer Mr. Simmonds, and it features a bit of a different sound for you. I know you two have known each other for a while, but what inspired you to link up and become The Hues Brothers?

Indeed, we met in 2012 in NYC.

The seeds for this project were planted between 2013-2015, in as much as that we'd built a working studio relationship, and friendship. He moved to Seattle shortly thereafter. Not long after that I was like, "Man … we've got some unfinished business," and in 2017 I traveled to the Pacific Northwest.

We holed up in his lab for a week and wrote and recorded this whole project.

I'd been very intent on doing



1. A single-producer album

2. That's sample-free
3. A conceptual record that doesn't have my name at the forefront


So the timing was great, and we were able to bottle up a vibe that you can really only catch when it's music sun-up to sun-down. We'd record two songs before lunch, write and compose in the afternoon, catch wreck through the late-night hours, sleep on the studio couch, wake up, repeat.

His roots are in trip-hop, downtempo, and electronic music, as much as hip-hop, and my spiritual practice was merging with my study of theoretical physics, and my writing, in a way that produced a poetry perfectly suited for his textures.





As an indie hip-hop artist, do you feel you're more free to experiment, sound-wise, than your mainstream peers, or are there just as many constrictions due to preconceived expectations?


In growing as a musician and writer, I'm trying to do something different with every project, make something that doesn't sound like anything I've done, let alone anything else out there.

I've been on wax since '01 and I feel like I am just beginning to hit my stride as an artist.

In terms of indie vs. mainstream … I don't think we can really differentiate sonically anymore. There's tons of independent music emulating what's on the mainstream channels, and vice versa. And damn, being "indie" is a promotional platform some artists have used in illusory ways to hype their ascent to the mainstream.

The trap – hmm subliminal pun? – I see a lot artists falling into is trying to tap into a trending sound to gain mainstream traction, and sometimes that falls flat with their fan base.

As far as expectations, I think there's a difference between experimentation and reinvention. If you're staying true to yourself, your core audience will ride with you as it expands, and part of my aesthetic is executive producing my own albums, meaning I can stretch as far in any direction I feel.

On stage I'm taking risks I never imagined – playing piano, rocking with brass bands, singing, freaking freestyles with various vocal styles.

I'm in this for a lifetime, and plan to keep evolving. And I'm not looking solely at hip-hop for the lead here. When it comes to legacy, and catalog, I look at David Bowie, David Byrne, Patti Smith, Miles Davis, Ursula LeGuin, Prince, Herbie Hancock, Boots Riley, bell hooks, Serge Gainsbourg, as well as peers like Eena Daou, Mtume Gant, Doron Lev, and Caits Meissner –genre benders who are creatives across mediums.

At the end of the day, if what I'm doing isn't riveting to me, it's not worth the energy.


You spoke a lot about growth, and reinvention. With that in mind, what do you feel you got out of the writing, recording, and performing of Radio Activity?


These sessions, and this album, are synthesis and salvation.

It helped me deal with a deep depression spell that was both post-presidential election, and post-break up.

It merged my meditation practice – literally … check "Oscillation" and Google "Kum Nye" – with my sci-fi fascination, with the need to make, and to make something very different.

This album is a 30-minute ruminating reminder to the self to listen to my heart, be present in my body and in the moment, stay attuned to ancestors, and move with haste and fearlessness.

But the recordings were just the beginning. The album spawned a creative collaborative windfall, from the cover art, to the music videos, to the bonus graphics assets, to the distribution partnership with Fat Beats, and at the end of the day it's some MC/DJ two-turntables-and-a-microphone music that I got to make with one of my brothers, which is my bread and butter, and also a balance to the other live band production album I've got in the oven.

It also gave me a chance to inhabit a persona in the studio for a week, and catch that voice on record.

We envisioned ourselves as post-apocalyptic time-traveling G-men – Captain Kirk meets Thelonious Monk type-ish. I got to wax poetic, political, and personal while stepping outside of my comfort zone – one of sample-based music – into another dimension – one of synths and science – which, over the course of recording, became a zone of its own.

Mr. Simmonds' skills as producer and world-class turntablist really shine as an instrument here, that's why this is future jazz. On "Music & Dreams" there's a turntable solo that you can't tell me isn't a 2018 Futureshock riff.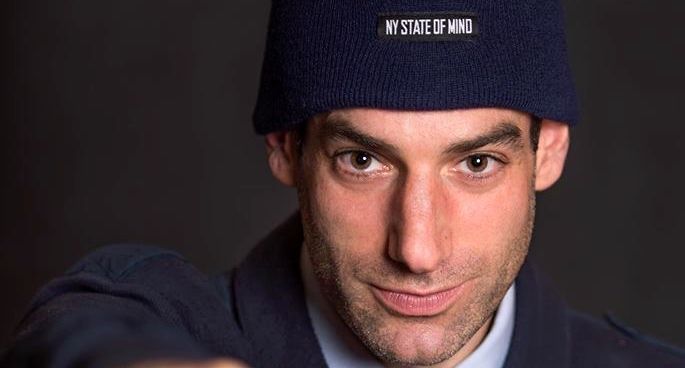 You know I'm not about to let the spelling of Hues go unnoticed. Tell me about the inspiration for the colorful name.

The inspirations for the album, yes. We did some digging in Seattle when I first got there and found a record from 1954 titled The Story of Jazz written and narrated by Langston Hughes. It's presence in the lab was constant, and it was instrumental to our creative process.

As the sound and words of the album emerged we got more deeply hooked on the concept of "hues" – the exploration of space and time, worlds beyond worlds, parallel dimensions, the DNA of hip-hop music … and the homonym magic presented itself.


Finally, you're an international traveler, and have been around the world a number of times. What places are left on your travel bucket list, and what do you hope to see/experience there?

It's a great big world, and I want to see it all.

I dream to go to Australia, and New Zealand, Japan, South Korea, South Africa, Morocco, Zimbabwe, more of the UK, but with the state of the world, and the state of this country, my focus for the next bit of time for myself, and for the Say Word team, is to hit the U.S. road.

I feel like having conversations with audiences is our duty, and we are a nation in desperate need of exchange.

I've invested lots of time, energy, and resources building an international rep, and touring community, but if I'm going to continue living in this country I need to fight for its soul, be an ally and advocate for change and put my body on the frontlines, as both a white person and a revolutionary artist, because all of our future plans have the "apocalypse pending" asterisk next to them, which is captured in the spirit of this album.

"Only you can save your soul / only you can save the globe," to quote myself from "Land Mines." And I'm not just quoting myself, I'm speaking to myself.

For more Rabbi Darkside, and The Hues Brothers, check out Radio Activity on Bandcamp, and follow Rabbi D on Facebook, Twitter, and Instagram.



Labels: Vid Picks
posted by Adam Bernard @ 7:00 AM