Vid Pick: Kip Russell – Dumb Sh*t
Friday, March 09, 2018

If you're looking for your first Spring/Summer anthem of 2018, look no further than Kip Russell's "Dumb Sh*t."

With a laid back vibe, and lyrics about good times with good friends, it's the perfect soundtrack for fun in the sun.

Wanting to know more about the song, and party-themed video, I caught up with Kip Russell to find out about some of his fondest "Dumb Sh*t" moments, how to get together with friends even though we all have adult responsibilities, and his secret to finding happiness. We also flipped the script on "Dumb Sh*t," as the Chicago native discussed some of the smartest moves he's made in life.

First off, how much fun was it filming the video for "Dumb Sh*t"? I'm guessing plenty went on behind the scenes that didn't make it into the video.

I don't think I've ever been so drunk shooting a music video, but I still wasn't as drunk as Nic Bavetta (guitar player), haha. He may have killed a whole bottle of tequila himself.

We definitely had a blast, and to be honest most of the stuff that made the video was behind the scenes (footage), or outtakes. We basically had fun and filmed it, and director Cody Laplant kept rolling. 

What was your favorite moment from the shoot?

I can't pick a favorite moment because they were all so fun to film. (That said,) I do like the cut when we are laughing at the prank we pulled on my buddy Trevor. You can tell we were just drunk and laughing our asses off.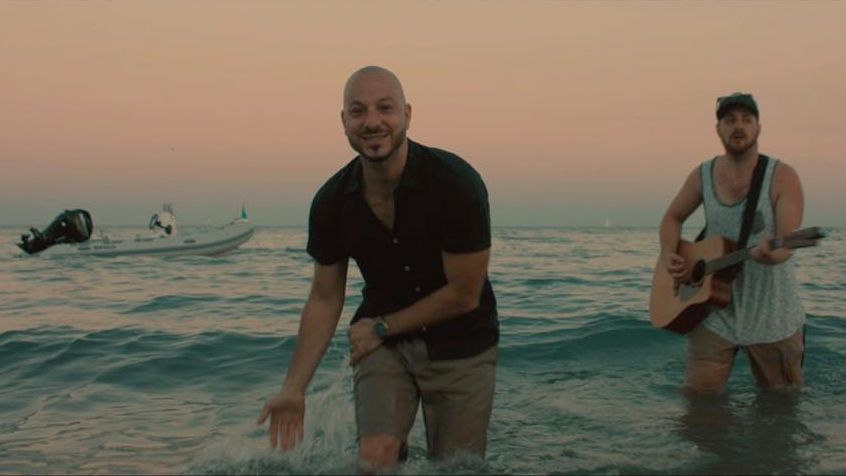 How much of the "Dumb Sh*t" from the video, and the song, is autobiographical? Did you really, as the lyrics said, have a moment where you did a stage dive and no one caught you?

It's 100% real stories.

I'm definitely not smooth like Jay Z. I tend to think I'm smooth, and then I do something to embarrass myself.

The first time I played a show with Shwayze in Chicago I stage dove and for sure fell flat on my face. I was on stage during their set, drunk, got caught up in the moment, and I went for it. It didn't go well, but I got a sick picture of it in action somewhere. It was a big moment for me since I had just released my single, "Pulaski Day," with them on their Bananabeat label.

It seems like the world is so serious all the time now, and we could all use more nights of doing some "Dumb Sh*t" with friends. How can we make that happen when, as you note in the video, some folks have wives, kids, etc.?

I don't get to see my best friends that often, but when we do get together it's always special. We usually tell great stories, drink lots of beer, and laugh so hard my cheeks are sore for days after.

Seeing good friends is good for the soul, and helps you recharge your batteries.

The best advice I can give is MAKE AN EFFORT and HAVE NO EXCUSES.

People are busy, so make sure when you have peeps over it's extra special, and make it so they can truly relax. My wife is great at that. She is an amazing host, and knows how to throw a party.



"Dumb Sh*t" is off of your 2017 album The Sweet Spot of Life. Tell everyone about what you consider to be life's sweet spot. It sounds like you've found happiness.

I think the Sweet Spot of Life is different for everyone. For me it's exactly where I'm at – beautiful wife, a daughter, roof over my head, career I enjoy, fridge full of beer, financially in a good place, and I have the ability to give back.

The journey was bumpy to get here, but I'm finally in the sweet spot.

What's one thing people can do every day to bring happiness into their lives?

Be grateful for where you're at. We all want to evolve, and improve our lives, but if you can pause and just be grateful for your current job, (and) that you woke up ... things tend to look a little different.

Finally, flipping the script on "Dumb Sh*t," tell everyone about three of the SMARTEST moves you've made in life.

1. I followed my dream. Music has given me everything in my life! My wife, daughter, career, cars, house, epic experiences, friends, all happened because I followed my dream.

Take the first step towards your dream and I promise no matter how bumpy the ride, the journey will be worth it! 

2. I asked for help. Asking for help when you need it can be super powerful. 

3. I married my wife. I would not be in the sweet spot if I didn't marry wife. 

For more Kip Russell check out thesweetspotoflife.com.



Labels: Vid Picks
posted by Adam Bernard @ 7:00 AM