Pop Shots – Geography Lessons
Monday, July 03, 2017

Welcome to your weekly dose of pop world musings. Covering all things pop culture, this week Pop Shots is hitting you with thoughts on everything from where Shakira will be shaking her hips, to Britney's interview with Israeli TV, to Taylor Swift showing some love to an MVP in OKC, and since this is Pop Shots you know everything is seasoned with a little bit of attitude.

* Shakira announced her El Dorado World Tour will hit over 30 arenas throughout Europe and the United States. The tour will kick off in Cologne, Germany, on Nov. 8th, but, sadly, as of yet has no planned tour date in my living room.

* In an Instagram post, Maple Leif Garrett, aka Justin Bieber, called Drake "more than a rapper, a culture shifter and legend," adding he feels Drake is the "best of our generation." Best what? He wasn't even the best Degrassi character of his generation.



* In an Israeli TV interview ahead of her July 3rd show in Tel Aviv, Britney Spears responded to accusations that she doesn't sing live, saying, "It really pisses me off because I'm busting my ass out there, and singing at the same time, and nobody ever gives me credit for it, you know?" I think I speak for all of my peers on this when I say … how the f*ck is Israeli TV scoring interviews with Britney Spears?

* Lorde might finally be feeling a little royal, as she notched her first number one album with Melodrama. You go, Randy Marsh!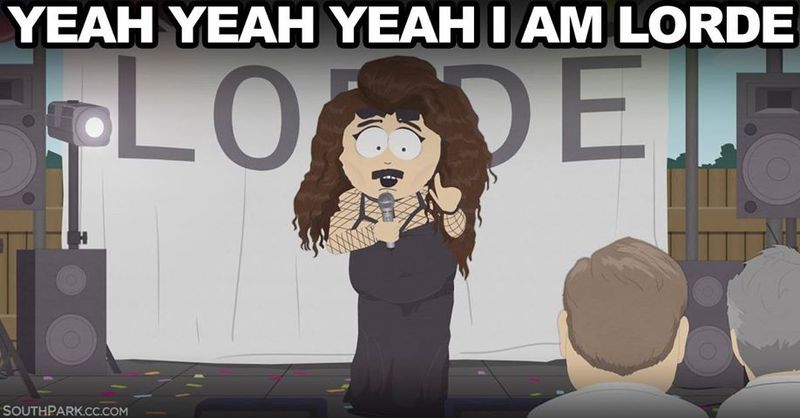 * Brad Paisley, Lady Antebellum, and Hailee Steinfeld have been confirmed as performers for this year's Macy's 4th of July Fireworks Spectacular in New York City. Between the 4th of July fireworks, and Thanksgiving Day balloons, is Macy's covertly attempting to take over the sky in New York City, starting with the holidays and then expanding until their name and logo block out the sun, and we have to pay them in order to get a single moment of natural light? I'VE FIGURED OUT YOUR PLAN, MACY'S, AND I'M NOT GONNA LET YOU GET AWAY WITH IT!

* Taylor Swift made an appearance in a congratulatory video the Oklahoma City Thunder made for Russell Westbrook honoring his being named the league's MVP. Apparently she isn't just feeling 22, she's feelin' number 0, as well.



* A suspect in an aggravated kidnapping case in Austin, TX, was apprehended at an Iron Maiden concert after his friend posted their ticket information on social media. It would be beautifully ironic if they nabbed him while the band was performing "Running Free."

* Halsey vs. Iggy Azalea is about to be a thing. This, after Halsey called Iggy "a fucking moron," during a recent interview, adding that she was "fascinated" watching Iggy's career dissolve. Iggy replied that the two have never met, and that Halsey might want to chill with being so judgmental as she could end up in a similar situation one day. By reporting this, I have hereby adhered to Article 28 of The Bro Code. You're welcome.



* Dennis Rodman was seen using a women's restroom at Long Beach airport while rocking out to Staind's "It's Been Awhile" blasting from a personal mini-speaker. Isn't this how everyone celebrates the end of a bout of constipation?

* The ongoing war between Kesha and. Dr. Luke has one less side fight now, as the defamation lawsuit filed in a Tennessee court by Dr. Luke against Kesha's mother, Pebe Sebert, has been dismissed. A joint statement released by both Dr. Luke and Sebert says the latter "admits she has no firsthand personal knowledge of the events occurring on the night of the alleged rape." There is still, however, documented footage of Kesha and her mom being a host family for Paris Hilton and Nicole Richie during season three of The Simple Life. This has nothing to do with the case, but, honestly, I'll use any excuse to bring it up.



* Last, but certainly not least, Lights is back with a brand new song, titled "Giants." "Giants" is the first single off of her upcoming album/comic book series Skin&Earth, and being that this is Lights we're talking about, you already know the music is great, and the video is wildly creative.




And with that, my time is up for the week, but I'll be back next week with more shots on all things pop.



Labels: Pop Shots
posted by Adam Bernard @ 7:00 AM