Pop Shots – Jaw Dropping Stuff
Monday, October 31, 2016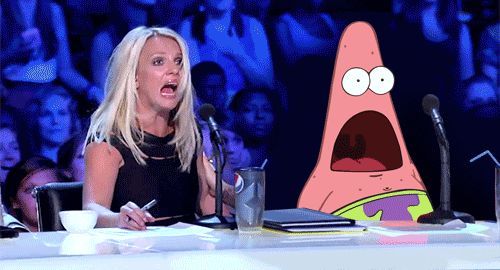 Welcome to your weekly dose of pop world musings. Covering all things pop culture, this week Pop Shots is hitting you with thoughts on everything from Britney's bra mishap, to Drake's inappropriate diss, to ABBA being on the cutting edge of technology, and since this is Pop Shots you know everything is seasoned with a little bit of attitude.

* Britney Spears nearly lost her bra during a show at her Las Vegas residency. Don't call this a wardrobe malfunction, though. This is Vegas, Tom Jones is there somewhere, and bras are magnetically drawn to him. Britney's bra was just doing what comes naturally to it.

* Maple Leif Garrett, aka Justin Bieber walked off stage during a performance in Manchester, England, when his fans wouldn't stop screaming. With that kind of reaction to appreciation, I assume at the holidays he thanks people for gifts by setting their Christmas trees on fire.



* Lady Gaga will perform at the 2016 American Music Awards on November 20th. Being that it's the AMAs, and not the Grammys, she may actually consider this part of her Dive Bar Tour.

* Ciara and Russell Wilson announced they're expecting a baby. At least that's one thing the Patriots didn't intercept at the goal line.

* Drake released a song where he dissed Kid Cudi for having mental illness issues. I'm sure Drake's just mad that, even in rehab, Cudi has a better shot with Rihanna than he does.



* Mariah Carey canceled her tour dates in Brazil, Argentina, and Chile, citing "promoter negligence" as the reason. I didn't realize not having a top ten hit in seven years could be defined as "promoter negligence."

* Simon Fuller, best known as the creator of American Idol, is launching a virtual reality venture with ABBA. If our next big dip into the virtual reality world involves ABBA, I don't think we have to worry about the robots taking over for a while. We may, however, have to worry about the robots winning all of our '70s dance contests.



* The Weeknd announced he'll be opening pop-up shops this coming weekend to celebrate the November 25th release of his new album, Starboy. Pop-up shops? All my indie artist friends used to just call it trying to sell their music on the street.

* Soulja Boy and Bow Wow dropped a mixtape together titled Ignorant Shit. There's a chance the lesbian who was pretending to be Bow Wow on Catfish could move more units than this.



* Donnie Wahlberg set the world record for most selfies taken in a three minute time span when he snapped 122 pics with fans aboard the New Kids on the Block cruise ship. I assume he then wrote in his diary, and texted one of his friends about how he was "so excited" for prom.

* Dead or Alive's Pete Burns is now, sadly, the former, rather than the latter, having passed away at the age of 57 from cardiac arrest. He is survived by one of the most iconic songs of the '80s.




And with that, my time is up for the week, but I'll be back next week with more shots on all things pop.



Labels: Pop Shots
posted by Adam Bernard @ 7:00 AM