Concert Review: The Summer Set Shine Brightly in NYC
Thursday, June 02, 2016

By the time pop-punk veterans The Summer Set wrapped up their 90+ minute set at Gramercy Theatre in NYC on Friday night they'd run a full gamut of emotions. There was the unabashed joy of "All In," the wistfulness of "Jean Jacket," the longing of "Heart on the Floor," and the vengefulness of "The Boys You Do." The emotion that stood out most, however, was appreciation.

The appreciation came from a beaming Brian Logan Dales, who radiated a genuineness that was on a level that can only be reached by a performer, and a band, that's nearly had it all slip away.

For The Summer Set, and most notably Dales, the journey from their 2013 album, Legendary, to their 2016 release, Stories For Monday, was a difficult one. In-between songs Dales told stories of what he went through during that time, stories he also wrote about on his blog earlier this year.

Explaining that he reached some significant lows, both career-wise, and life-wise, in-between albums, Dales wrote, "I wouldn't talk to anyone. I distanced myself from everyone. I got so discouraged I called my mom, told her I didn't want to make music anymore, and went back to Arizona to hide for a few weeks. I didn't want to make a sound or write a single word."

This led to the band having a meeting, and deciding The Summer Set had run its course. They were going to do a farewell album, and call it a day.

A funny thing happened, however, on the way to breaking up. Dales, and crew, found a new level of openness with their music. "I dropped my ego," Dales wrote on his blog, "(and) we stopped giving a fuck about what anyone else thought of us."

Essentially, The Summer Set decided to be themselves 100% of the time. The reaction they received from listeners was huge.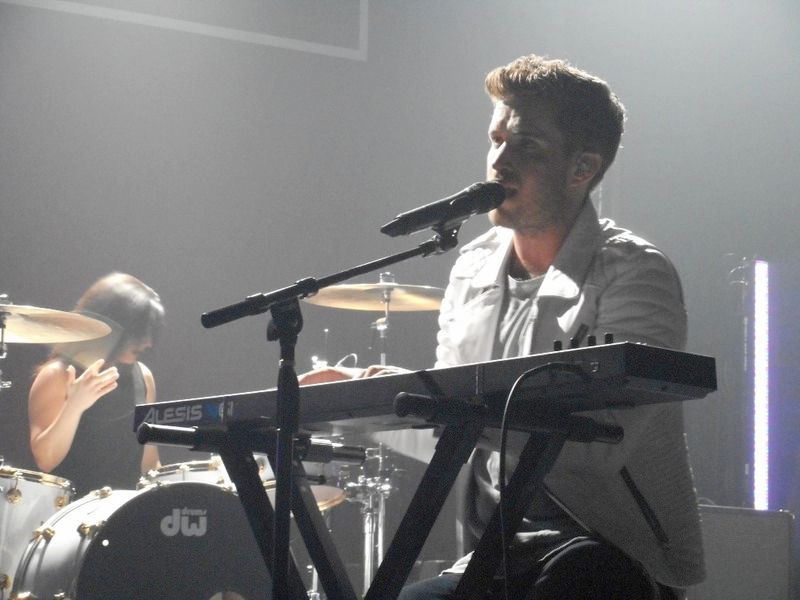 "Figure Me Out," the intensely personal first single off of Stories For Monday was released at the end of January, and fans loved what they heard. They loved the openness. They loved the honesty. They loved getting to know Dales on a deeper level. Because of this, the band became enlivened again, and found a level of inspiration I doubt they imagined they'd ever feel again.

This is why the joy Dales, and the rest of the band, expressed while on stage at the Gramercy was so beautiful. He'd nearly reached a point to where The Summer Set, and possibly the stage altogether, weren't going to be a part of his life. The fact that they still are, and that crowds still sing The Summer Set's songs, has brought about a genuine appreciation in Dales that really shines through.

During the band's set they were joined by two guests, vocalist Max Schneider, whose range is incredible, and American Authors singer Zac Barnett. As each guest took on backing vocal roles, the entire scene felt celebratory for The Summer Set. They were back where they belonged, and they had their friends on stage with them.

Again, it was pure appreciation of the moment.

At one point, Dales worked his way through the crowd, and climbed onto a ledge by the sound boards, which, at the Gramercy, are located in-between the standing room section of the venue, and the seating area. He sang a few verses from there, high above his audience, dripping with sweat, and with a smile on his face that made it obvious that he felt like he was the luckiest man alive.

In his blog post about the creation of Stories For Monday, Dales noted, "This was almost gonna be our last tour ever, but we're pretty excited to say that's just not true anymore."

Everyone should be excited, as The Summer Set are a fantastic live band that can fill a 90 minute set with emotion, and energy, and will have you feeling as great as they feel when they're on the stage.




All photos by yours truly. Please do not use without permission.



Labels: Music Reviews
posted by Adam Bernard @ 7:00 AM