Pop Shots - Here Comes Trouble
Monday, September 22, 2014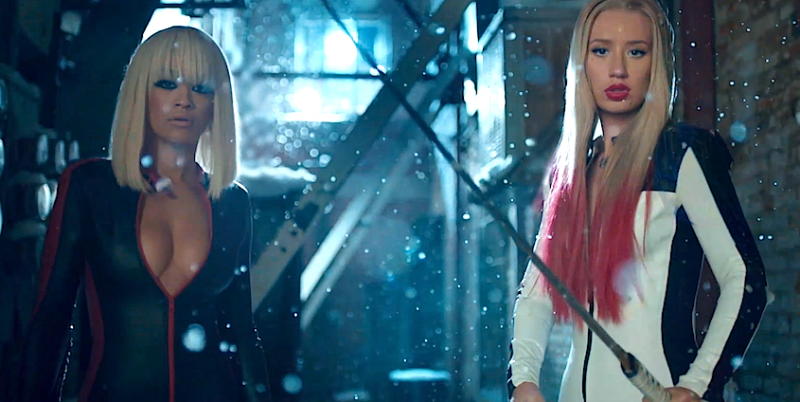 Welcome to your weekly dose of pop world musings. Covering all things pop culture, this week Pop Shots is hitting you with thoughts on everything from Iggy Azalea's new legal battle, to Miley's Mexican misadventure, to Robin Thicke's blurry confession, and since it's Pop Shots you know everything is seasoned with a little bit of attitude.

* Iggy Azalea is going from fighting her way to the top of the charts, to fighting it out with an ex in court. A man she dated in 2008 named Maurice Williams, who, unbeknownst to Iggy, was married at the time, claims to have unreleased music of Iggy's, and a sex tape starring the rapper, which he says he has the right to release because of a signed agreement. According to Iggy's lawsuit against Williams, the signed agreement is a forgery. "The Forged Agreement contains tell-tale signs that it is not genuine," states the lawsuit, "For example, it includes mismatched fonts on the signature page, paragraph numbers out of sequence, a signature line for 'Wine Enterprises, inc.' [sic] (rather than for an authorized agent), and provides, as an address for legal notices, the contact information of an attorney who had no prior knowledge of the Forged Agreement." Hey, message to Maurice Williams, who seems excessively sleazy, maybe don't go after a woman whose current hit features the lyric, "I'm gonna love ya like a black widow, baby."

* According to Us Weekly, the romance between Avril Lavigne and Nickelback singer Chad Kroeger is coming to an end. The publication is reporting the duo are headed for divorce just barely over a year after exchanging vows. This begs the question, which Canadian singer will Avril marry next? My vote is for Gordon Lightfoot.



* Mexico is mad at Miley Cyrus. In a story that is too ridiculous not to be true, last Tuesday, which happened to be Mexico's Independence Day, Miley had a show in Monterrey, and during that show she donned a fake oversized ass, which one of her dancers spanked with a Mexican flag. This, according to Mexican law, is something that's more than just frowned upon. In fact, the act of disrespecting a Mexican symbol carries a fine up to $1,200, and three days in jail. Was the act offensive? Perhaps, but this could also be a well orchestrated plan by Miley's team to land her a guest spot on the next season of Orange Is the New Black.

* A deposition Robin Thicke gave in April has been made public by The Hollywood Reporter, and the details of it are just plain sad. According to Thicke, he was high on Vicodin, and drunk, when he showed up to the studio to record, as well as when he was doing interviews, and even though he took partial credit for "Blurred Lines" once it blew up, "The reality is, is that Pharrell had the beat, and he wrote almost every single part of the song." This story will reach the true depths of sadness if it turns out Thicke was so high he has no recollection of frolicking with a topless Emily Ratajkowski.



* GWAR, who many wondered about the future of after frontman and founder Oderus Urungus (Dave Brockie) passed away earlier this year, have found a new vocalist. The new singer is woman who goes by the name Vulvatron, and according to fans who saw her debut at Riot Fest in Chicago, her costume has massive breasts that occasionally shoot geysers of blood. With a description like that, I wonder if I've ever taken her home at last call.

* In news that has to confuse the heck out of Bono, who literally couldn't give away his band's latest album, Barbra Streisand is predicted to have the number one album in the country this week with her set of duets titled Partners. This would be Streisand's tenth number one album, and would make her the first artist to have number ones in each of the past six decades. Somewhere, Linda Richman is extremely verklempt.



* Finally, the world needs more of Meg Myers, so here's more Meg Myers. Seriously, she's like a darker version of Alanis Morissette, but with even more attitude. I can't get enough of her!




And with that, my time is up for the week, but I'll be back next week with more shots on all things pop.



Labels: Pop Shots
posted by Adam Bernard @ 7:00 AM