Pop Shots - Putting in Work
Monday, December 03, 2012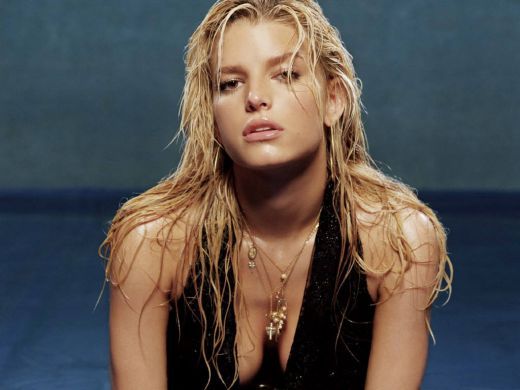 Welcome to your weekly dose of pop world musings. Covering all things pop culture, this week Pop Shots is hitting you with thoughts on everything from what we assume has been Jessica Simpson's workout plan, to Bjork having some work done on her vocal chords, to Ricky Martin finding work in Australia, and since it's Pop Shots you know everything is seasoned with a little bit of attitude.

* Jessica Simpson is expecting her second baby with fiance Eric Johnson. The couple just had their first child seven months ago, and Simpson went on a weight loss kick afterward, losing 70 pounds. With baby number two already on the way I think we might have an idea of what she was doing for cardio. (and yes, I used an older picture of Jessica Simpson. I hope you don't have to ask why.)

* Despite taking journalists and fans on a plane ride that was so bad even Uruguayan rugby players felt lucky to not be on it (kids dig references to 70s tragedies, or at least 90s movies about 70s tragedies, right?), Rihanna debuted at number one on the Billboard albums chart with sales of Unapologetic reaching 238,000. Word is Chris Brown bought 200,000 of those copies just to throw at her during their next argument.

* This past week, in a letter to her fans posted on her website, Bjork revealed she had vocal chord surgery earlier this year. Apparently the surgery was the same kind Adele recently had, and Steven Tyler and Roger Daltrey had in the past. Something tells me Steven Tyler wasn't the example of post-surgery vocals Bjork was going for when she had the procedure done. I don't think anyone's pointing to a picture of him and saying "make me sound like that."



* When Psy's video for "Gangnam Style" topped Justin Bieber's "Baby" for most viewed video on YouTube a lot of people made a big deal about it, crowning Psy the new king of YouTube. The reality, however, is that Psy is only the king of YouTube because a lotta folks had a hard time learning his dance. In a related story, Cupid wishes he had made his "Cupid Shuffle" way more complicated.

* Seminal pop punk band New Found Glory have decided it's time to take a break. Currently touring in support of the tenth anniversary of their Sticks and Stones album, NFG frontman Jordan Pundik told Billboard "I think we need to go away for a little bit." Pudnik added that the band plans on coming back, but not for a few years. In other words, New Found Glory has literally picked their friends over you.

* Ricky Martin will be taking over Keith Urban's vacated coach's seat on the Australian version of The Voice, but in order to do so he'll be ending his run as Che in the Broadway production of Evita. There's no word on his Evita replacement yet, but William Hung is available.



* In "you should know better" news, Chris Brown did what no one should ever do on the internet, and that's engage with a troll. Twitter user Jenny Johnson had been reminding Brown of his domestic violence conviction, and what kind of a man she thought he was, for quite a while, and last week he replied with a slew of vulgarities directed towards Johnson. (I'm guessing whoever mentored Brown at his anger management classes wasn't exactly beaming with pride when reading those.) After all was said and done Brown deleted his Twitter account. Twitter, however, didn't lose any amount of crazy, as just as Brown was deleting his account Amanda Bynes was relaunching hers, so the internet can rest easy, it's crazy celebrity ratio has not been significantly altered.

* Mary J. Blige and her husband are being sued for defaulting on a $2.2 million dollar loan. The superstar and her beau took out the loan in October of 2011, and defaulted in July of 2012. Remember earlier this year when people pressured Mary to give up her Burger King fried chicken commercial? Well, now she's being sued for defaulting on a loan. LOOK AT WHAT YOU'VE DONE!

* Finally, will.i.am and Britney Spears joined forces to create a song that sounds exactly like every song you've heard in every nightclub for the past five years. I will say this, though, will.i.am has some fantastic taste in hats.




And with that, my time is up for the week, but I'll be back next week with more shots on all things pop.



Labels: Pop Shots
posted by Adam Bernard @ 7:00 AM