Bloggin Ain't Easy in a Hurricane Disaster Area
Wednesday, October 31, 2012

When we were without power in Connecticut after Hurricane Irene a buddy of mine joked that it was funny imagining me running my media empire (his words, not mine) on a computer in a children's library. That joke almost became reality this morning as I was one of the first people at the Westport Public Library to take advantage of their free WiFi and numerous outlets to charge up my computer and cell phone (regular library area, though, not children's!). As most of you know, Hurricane Sandy was just as evil a woman as Irene was. Unfortunately, in my area of Fairfield it seems as though no one, and by no one I mean the town government and United Illuminating Company, seems to care.

Yesterday I took a walk around the Black Rock Turnpike area, which is near my office (I know, I shouldn't tell people where I work, but last time I checked I already have "Fairfield, CT" in my bio, and I always tell everyone the events I'm attending, so if I have a stalker they're doing a really terrible job). What I found was an array of downed trees, snapped power lines, and even a power line pole completely ripped out of the ground and thrown into a parking lot. Taking that same walk 24 hours later, I saw the exact same things. Nothing had changed. Nothing had been moved. Nothing had been worked on.

Here's some of the imagery from today's walk (the above pic is from today's walk, as well). Click on any image to enlarge.



Had that tree fallen the other way it might have ended up in my office, which would have been really bad, because I'm terrible at taking care of plants.



This tree is doing a nice gangsta lean on the power lines. Someone call D.R.S!



"Let's just convince people no one wants to go down that road anyway."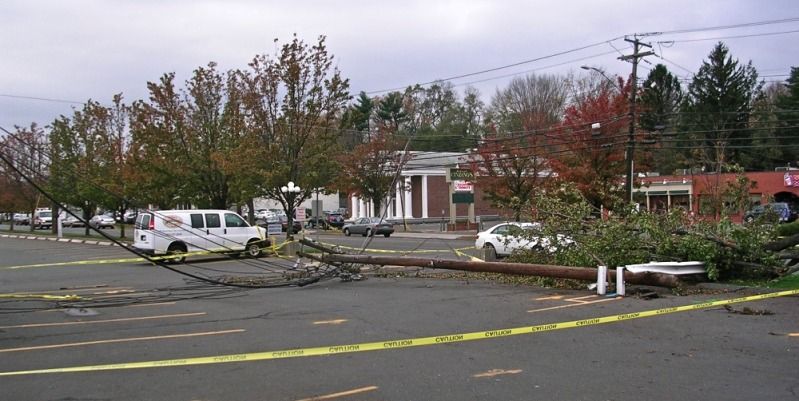 Hey, power line pole, you're taking up all the parking spaces!



So what you're saying is my glasses won't be ready in an hour?

According to a post by United Illuminating on the Town of Fairfield's Facebook page, this morning UI had all of one crew out for the entire town of Fairfield, a town that was 98% without power on Monday. When I called UI to ask how that could be I was told "I don't know where you get your information," which was interesting, because I actually led with that.

Checking the Twitter page for United Illuminating is no help either. They tell people to not direct issues to them on Twitter, and to instead call them. Apparently they feel an overworked call center filled with operators who may not be fully informed is better than a one time 140 character answer to a question. They also aren't tweeting out very many updates regarding how many homes they've turned back on, and in what towns. If they were sending out that kind of information on a regular basis (one general number update per day isn't nearly enough) I'd feel like they were on the ball, rather than figuratively, and for many of us literally, leaving us in the dark.

Fans of my blog, and it's regular content, need not worry. Not only is blogging about local issues a rarity that I hope to not have to repeat for a while, I've already pre-blogged two things for Friday, so even if the power remains out, my blog, much like Celine Dion's heart, will go on. As an aside, it freaks me out a little bit that I could die and my blog would continue posting simply because I set it up to. I'd essentially be blogging from the grave. I mean, of all the things I could do from the grave, like haunt people, or watch beautiful couples having kinky sex, I'd be blogging.

Now, I am in no way comparing the damage to my town to the horrific damage done to New Jersey, especially the Jersey Shore (which totally killed my idea to get the Jersey Shore house declared a national landmark. You know I'd have tried to make that happen!), and my beloved New York City (I wrote my master's thesis on the LES, and have spent just as much time there in the past dozen years as I have my own bed). There are different clean up crews for each state, I just wish ours was doing a bit better job, and keeping us better informed.

Side Note - I posted this from my parents' house. They have a generator. I will now go back to the land of Hoth, which is my place, formerly known as Eternia (because I like both Star Wars and He-Man references).




Labels: Culture
posted by Adam Bernard @ 5:52 PM