Pop Shots - We Like To Party
Monday, September 03, 2012

Welcome to your weekly dose of pop world musings. Covering all things pop culture, this week Pop Shots is hitting you with thoughts on everything from Katy Perry's partying ways causing John Mayer to part ways with her, to the final fist pump for Jersey Shore, to an unusual place for Taylor Swift to get things jumped off, and since it's Pop Shots you know everything is seasoned with a little bit of attitude.

* According to an Us Weekly report, John Mayer ended his relationship with Katy Perry via email after feeling she was partying too much. In other words, John Mayer is looking for someone whose body is a wonderland, but who doesn't stay out till 2am at places named Wonderland.

* will.i.am, famous for making the pop music you love to hate, but secretly dance to when no one is watching, debuted his latest solo effort, "Reach For The Stars," on Mars this past week. He broadcast the song live from the surface of the red planet via NASA's Curiosity rover. This begs the question - how the f*ck did Clear Channel ALREADY get the programming rights to Curiosity?

* With Pauly D touring the world, and Snooki going from having meatball problems to mom-ball problems, MTV has announced they'll be pulling the plug on Jersey Shore after season six, which begins on October 4th. With both Jersey Shore and Teen Mom coming off the schedule MTV is scrambling to see if Tila Tequila is looking for another Shot At Love.



* At some point, big companies will realize running contests on the internet is a bad idea, but until that day comes the internet will continue to mock said big companies by doing things like sending Pitbull to a Walmart in Alaska, and now potentially sending Taylor Swift to sing at a school for the deaf. Yes, Pizza Hut and Chegg, in their combined infinite wisdom, set up an online contest where the school with the highest number of votes wins a performance from Swift, and the internet being the internet has the Horace Mann School for the Deaf and Hard of Hearing in Allston, MA, in the lead. Oh internet, don't ever change.

* Dave Matthews Band, which still exists solely to help suburban white pot head guys get laid by suburban white pot head girls, released a new video with the help of their fans. The video, which is for the song "Mercy," features an untold number of the 14,334 fan submissions of photos and videos for the three minute and eight second clip. The most interesting aspect of this is that Dave Matthews Band still has 14,334 fans.

* Nicki Minaj has announced international tour dates for the fall, making her America's new number one export, and another reason for us to apologize to the rest of the world.

* John Rich and Clay Aiken got into a war of very few words on Twitter this past week over a negative tweet Aiken wrote about the Republican National Convention. It's for instances like these that I feel Celebrity Boxing should be brought back.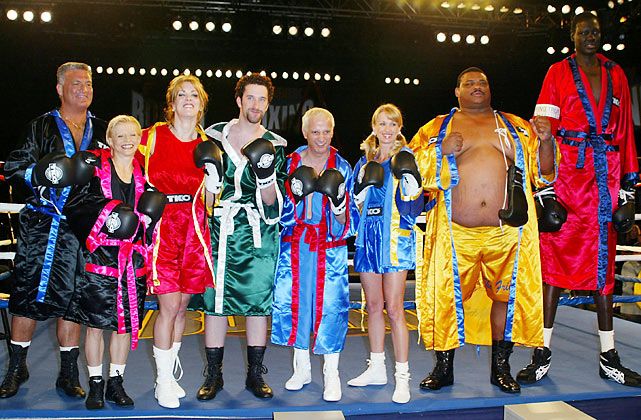 * Randy Jackson may be leaving American Idol. If he does, they'll have to replace him with DMX in order to keep their minimum required "dog" count per episode.

* LeAnn Rimes has checked into rehab for what she deems is stress and anxiety. I guess it really is true, you can't fight the moonlight.

* R&B singer Trey Songz debuted at number one on the Billboard albums chart this week with sales of 135K. In a related story, Toni Braxton has 135,000 copies of Trey Songz's latest album she'd like to move.

* Jay-Z has teamed up with Ron Howard and Budweiser to create a concert film titled "Jay-Z's Budweiser Made In America." If you think that's the worst title in the history of filmmaking, you're right.

* Finally, if you ever wondered if Beavis and Butt Head were real, I think this video of ICP watching "Call Me Maybe" has all the answers you're looking for.




And with that, my time is up for the week, but I'll be back next week with more shots on all things pop.




Labels: Pop Shots
posted by Adam Bernard @ 7:25 AM