Pop Shots - The Bigger The Better
Monday, September 17, 2012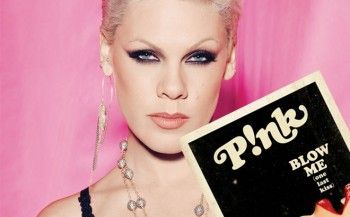 Welcome to your weekly dose of pop world musings. Covering all things pop culture, this week Pop Shots is hitting you with thoughts on everything from the big sales boost for VMA performers, to a big controversy surrounding Amanda Palmer, to Lady Gaga's big perfume launch, and since it's Pop Shots you know everything is seasoned with a little bit of attitude.

* This year's VMAs may have not pulled in the kind of ratings last year's show did, but the artists who performed pulled in huge sales numbers after the show aired. Pink's latest single, "Blow Me One Last Kiss," saw an 89% sales jump, pushing it all the way up to number six on the iTunes singles chart, and Frank Ocean's Channel Orange album rose 49% while sales of his single "Thinkin Bout You" skyrocketed 209%. These kind of results show the people like seeing musicians perform on television. If only there was a network that was dedicated to this sort of thing.

* American Idol has rounded out their judging panel w/ Nicki Minaj & Keith Urban. Nicki on live TV? Can't see anything possibly going wrong here.

* I don't get to write this often, but Frank Sinatra's wiener has been in the news. Well, sort of. The estate of the esteemed singer successfully prevailed against a man who named his hot dog truck business Franks Anatra and tried to trademark it. This is a huge blow to my three latest business ventures - my strip club named Sin-Atra, my Chairman of the Boars deli, and my Old Blue Thighs Chicken Shack. Come to think of it, I don't think many people were going to eat something advertised as "Old Blue Thighs," so maybe that last one isn't such a huge loss.

* Amanda Palmer caused quite the ruckus this past week when the queen of Kickstarter announced she wanted even more from people - namely for the musicians who will play with her on tour to do so for free. This created a maelstrom of message board postings, most of them wondering why someone who raised over a million dollars from fans for an album, and is married to writer Neil Gaiman, who has an estimated net worth of $18 million, can't shell out a few bucks for a band. In a related story, K-Fed has already agreed to be her backup dancer for a bag of Doritos and a trucker hat.



* Because apparently there's a wide ranging assumption that people are made of money and have nothing but time on their hands, Coachella has unveiled plans to stretch their festival out over five weekends throughout the year. The city of Indio, CA, still has to approve the idea, and this involves weighing the impact such an undertaking would have on the environment, and polling the fake hippie population of America to see how much money they can really get from their parents for this sort of thing.

* A scissors wielding man claiming to be the husband of Miley Cyrus was arrested at her home last week after LAPD officers found him hiding in the bushes. This is clearly someone Miley could wait to see again.

* Will.i.am will be appearing as a guest mentor on The X Factor this season. He will immediately attempt to Auto-Tune the contestants and make them do dance tracks.

* Concert promoter AEG Live has withdrawn their $17.5 million dollar insurance claim in the death of Michael Jackson. They claim it has nothing to do with leaked emails that reveal the company was concerned about the singer's stability well before his passing, but instead is because they were reimbursed by the Jackson estate. Of course, there's also the possibility that they saw the "Thriller" video again and didn't want to have to deal with an angry zombie MJ. That's the story I'm going with!



* On Thursday Lady Gaga live-streamed the launch of her fragrance, Fame, so all of her fans could feel like they were at the event even if security would have shown them the door had they actually tried to show up. The launch happened at the Guggenheim Museum in NYC, although to hear Gaga talk about the fragrance, Scores might have been a more appropriate venue. She told Access Hollywood, "I wanted it to be very sexy, and, I also wanted it to be a little bit slutty. I wanted it to have that sort of danger of a really beautiful stripper. It's a fragrance for a woman that wants to be taken to bed, certainly." Ironically, it will cost you anywhere from $55 - $79 dollars if you want to smell like Lady Gaga's version of a cheap whore.

* In really strange chart news, Matchbox 20's latest album, North, somehow debuted at number one on the Billboard 200 chart. It's the band's first number one album, and no, this isn't a Pop Shots column from the early 2000s. Things get even stranger, however, as Christian hip-hop artist Lecrae debuted at number three, his highest debut ever, and this coming just a week after Christian hip-hop artist TobyMac debuted at number one. I've been trying to connect the dots here in a double rainbow like attempt to figure out what it all means, but don't worry too much about me, I'm not crazy, I'm just a little unwell.

* Finally, this video by something called Girl Squad currently has around 100,000 views, and I think 90,000 of them are from me trying to figure out why I don't hate it as much as I should (it's gotta be the Segways at the two minute mark). "Oh Well" indeed.




And with that, my time is up for the week, but I'll be back next week with more shots on all things pop.



Labels: Pop Shots
posted by Adam Bernard @ 7:28 AM