Pop Shots - Fine Whine
Wednesday, June 13, 2012

Welcome to your weekly dose of pop world musings. Covering all things pop culture, this week Pop Shots is hitting you with thoughts on everything from John Mayer being upset at Taylor Swift, to Amanda Bynes begging for some presidential intervention, to Erykah Badu complaining about the video for her collaboration with the Flaming Lips, and since it's Pop Shots you know everything is seasoned with a little bit of attitude.

* John Mayer spent his second week at number one on the Billboard albums chart, which is one more week than he's spent with any of his girlfriends. In a related story, Mayer revealed he was "really humiliated" by Taylor Swift's song about him, "Dear John." If he felt that way about "Dear John" he's going to be really depressed by the follow up, "You Won't Believe What A Whiney Bitch John Mayer Was About That Song I Wrote About Him."

* Miley Cyrus and actor Liam Hemsworth announced their engagement last week. Liam's been busy being a newly famous actor, while Miley is really hoping she can book the animatronic band from Check E. Cheese for the reception.



* Lauryn Hill has being charged with failing to file three years worth of federal taxes totaling more than $1.6 million in income. Let's be real, we all have one thought going through our mind regarding this - how many of her babies did Lauryn Hill sell to make that much money over the past three years? She sure as heck wasn't putting out music.

* Sheryl Crow says that, despite forgetting lyrics to some of her songs, she's not worried about the brain tumor she was diagnosed with last year because it's benign. Of course, that could just be the brain tumor talking.

* Actress Amanda Bynes tweeted to President Barack Obama to fire the cop that arrested her for a DUI. Please God, let this be the way Twitter works!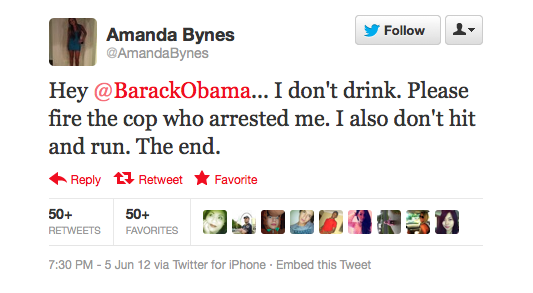 * Vevo kicked off it's "Certified" program this past week, which gives a new seal of approval to reward artists whose videos generate more than 100 million views. In other words, those who've already been universally lauded, will be lauded a little more. I hope YouTube tries something similar so Tay Zonday and Keyboard Cat can finally get the credit they deserve.

* Erykah Badu was none too pleased with the video that hit the net for the collaboration she did with the Flaming Lips, calling the clip for "The First Time Ever I Saw Your Face" "soft porn." She added, via Twitter, "When shooting a vid there is always proper protocol. Was not followed by Wayne. He wanted pub bad." This from the woman who walked around Dealey Plaza while stripping down until completely naked, and filmed it all without permission or permits, for one of her own recent videos.


* Finally, while I'm still convinced I'll never actually like a Rihanna song, this video by Mattstache makes "Where Have You Been" a heck of a lot more palatable, and quite a bit more beard-y.




And with that, my time is up for the week, but I'll be back next week with more shots on all things pop.



Labels: Pop Shots
posted by Adam Bernard @ 7:38 AM