Gypsyphonic Disko Bio
Thursday, March 08, 2012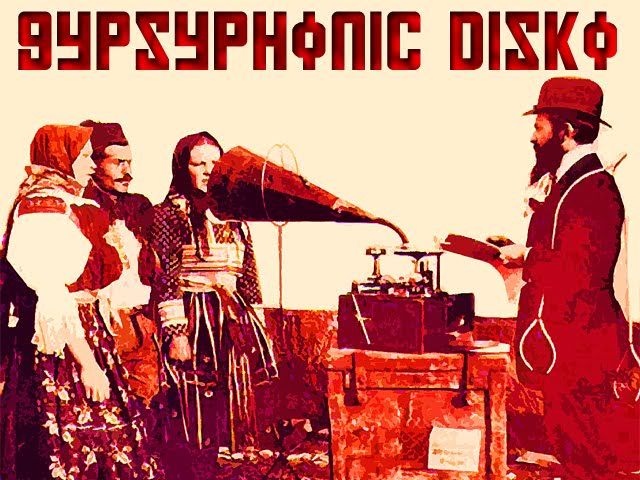 When Ben Ellman, of Galactic and The New Orleans Klezmer Allstars fame, had the idea to mix bounce, hip-hop, klezmer, and Balkan music he wasn't sure if it would have an audience. Ellman named the project Gypsyphonic Disko, and sent it to producer Quickie Mart, who was instantly sold on the high energy vibe Ellman was creating. Quickie Mart mixed the first Gypsyphonic Disko album,

Nola-Phonic Volume One

, added some segues and scratches to it, and 10,000 downloads later it became clear the duo was on to something.

Spin.com listed Gypsyphonic Disko as one of their 25 must-hear acts of the 2010 Bonnaroo Festival. Nerve.com said

Nola-Phonic Volume One

was one of the five albums people should be listening to, calling it "fantastic party music," and offbeat.com called the resultant mix of cultures and sounds "ideally New Orleanian."

In March, Ellman, whose production work for others has been Grammy nominated, and Quickie Mart will be releasing

Nola-Phonic Volume Two

, and this time they have an even firmer grasp on the sound they're creating. "With Volume One we were kind of experimenting with the style," Ellman explains, "Volume Two is 'this is the style, let's do this, let's invest in it creatively.'" That creative investment includes Balkan and klezmer laden versions of songs from some of New Orleans' most well known emcees, including Juvenile and Mystikal, as well as some of sissy rap's finest, such as Big Freedia, Sissy Nobby and Katey Red.

The music is high energy and New Orleans-centric, which were goals of Ellman's from the start as he wanted to make sure it embodied the city. The music also embodies New York City just a little bit. More specifically, The Bulgarian Bar, which Ellman and the rest of Galactic hang out at when they're in NYC. Throw in the extensive collection of bounce music Ellman acquired by trading libraries with a local New Orleans DJ, and some extra a cappellas from sissy rap artists that were too explicit to put on the last Galactic record, and you have all the ingredients Gypsyphonic Disko needed to create something unique and barrier breaking.

"At one point during the creation of

Volume One

I said 'holy shit man, we've invented a genre!' In this day, with mash-ups and all the stuff DJs are doing, I was like, 'I don't think anyone's really ever done this.' That's hard to do."

Getting people to listen to something new can be equally hard to do, but Gypsyphonic Disko is doing just that. According to Quickie Mart, "in New Orleans, GPD goes hard always. In the rest of the country... if they know what bounce is, it goes off well, if not, it is a lot of shocked faces." That initial shock quickly turns to enjoyment, though, as the reviews of Gypsyphonic Disko prove they've been winning over listeners nationwide.

 Ellman and Quickie Mart have found their audience, and it's a lot wider than either of them could have imagined. If you missed Gypsyphonic Disko the first time around, consider

Nola-Phonic Volume Two

your official invite to the party, and this is one party you don't want to miss, because whether or not you'd put on bounce, hip-hop, klezmer, or Balkan music individually, when they're expertly mixed together, the Gypsyphonic Disko result is something that not only gets the party started, but like any good New Orleans party, keeps it going all night long.


posted by Adam Bernard @ 7:35 AM