I'm Hosting a Concert in NYC on 5/14
Friday, May 08, 2009

Don't be alarmed by the men in hazmat suits, they're actually the time traveling Hip-Hop duo The New World Side Order and I'll be hosting their EP/DVD release party on Thursday, May 14th at the Karma Theater in NYC (51 1st Ave between 3rd and 4th Street). The night will include…

DJ Halo and DJ Milk Money on the ones and twos

And performances by:

Bronx Uber Villain
Tidal Friction
5 Foot Mafia
Carpetface & Audible
Mindspray
The New World Side Order

In addition to all that there will also be an MC battle, a beatboxer battle and a Whose Rhyme is it Anyway? freestyle competition.

The entire night will be streamed LIVE by Chilly S at chillys.tv, so show up, get on camera and get famous… hey, it's how Paris Hilton did it.

Doors are at 8pm with free Colt 45's for the first hour. The damage is $10 (ages 21+, ID a must) with the first fifty people getting a free copy of The New World Side Order's EP/DVD.

Yeah, I know, times are tough, but you can't spell recession without recess, so come on out on the 14th and have a blast with me and The New World Side Order.

If you're on Facebook you can RSVP on our event page.

Flyers are below (click to enlarge). I hope to see you there!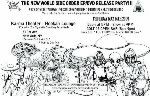 posted by Adam Bernard @ 7:51 AM