The Rocky Horror Louis Logic Show
Wednesday, May 07, 2008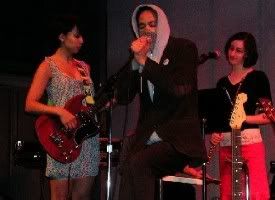 This past Friday my buddy Louis Logic invited me to his show at The Zipper Factory Theater in NYC. I hadn't seen Louis in a while and wanted to hear how his Kiss Her Stupid project, which is his work combining his own original piano compositions with his rhymes, was going, so I hopped a train and made my way into the city. I was totally prepared for a great time. Nothing, however, could have prepared me for the hilarity of Logic channeling Eddie Izzard's transvestism and donning some decidedly female clothing for a song (and yes, I have pictures).

The event started the way a lot of shows do, with an hour delay, so I saddled up to the bar, grabbed a beer and made some new friends. Once it was showtime we were led into the theater which had a big main stage and seating made out of the backseats of cars. It was very comfortable, though if your neighbor bounced you did, too, as you were sitting on the same seat.

Lady Rizo was the first to his the stage as the master of ceremonies for the evening. Dressed in a red gown her presence was large as she interpolated a few pop hits in her own Broadway / Vaudevillian style. Her version of Britney Spears' "Toxic" was so fun it ruined me for the original. After about fifteen minutes of performing she introduced the first act, Kind Monitor.

I had heard the name Kind Monitor before, but I had no idea their lead singer, Joshua Guthals, bore such a close resemblance to my high school biology and environmental science teacher Robert Ford (Prep Pride!). Guthals had an endearing shyness about him at the start of the show (something Mr. Ford never had) and he even admitted he's shy until he gets to know the audience. Once that happened he began prompting us to sing along and giving us lines to do a little call and response with. I dug many of the group's faster paced songs, including "Cairo," for which they were joined by a masked MC that was Louis Logic, "Shark," and their extremely fun interpolation of Michael Jackson's "Billie Jean." What all three of those songs had in common were fantastic basslines provided by Sonia Manalili. Kind Monitor lost me a bit with their slower tunes, but I have a feeling that might have been because I was amped for a Hip-Hop performance and slowing down wasn't on my mind at the time. Listening to some of their slower songs again online there is definitely a time and a place where I would be feeling them.

After a brief intermission Louis Logic and J.J. Brown hit the stage. Although I was expecting a lot of piano playing the set started out with some classic Louis Logic material, including "Classy McNasty" and "Morning After Pill." He also rocked over Onyx's "Slam." A portion of that performance can be seen here:




Logic then took to the piano as his band came out to join him and play a song with The 1Shanti, who was a surprise guest, before playing a few of his own tunes, including personal fave "The Great Divide" (I know at least one woman I could dedicate that one to!). Things took a turn for the strange, however, when he went backstage and put on a pink shirt saying he wanted to show his feminine side. Lady Rizo then came out and said she knew that wasn't his feminine side and proceeded to rip the shirt off revealing a black bustier, fishnet stockings and panties. The outfit would have made Dr. Frank-N-Furter proud. Logic then launched into "Coochie Coup," one of his most misogynistic songs, creating quite the juxtaposition of the senses. It was a beautiful moment in performance, even if Logic makes a less than beautiful woman (sorry, homey… wait a minute, WTF am I apologizing for?).

Logic finished up his set on the piano (in a robe) doing a rendition of Biz Markie's "Just a Friend" as everyone sang along. Lady Rizo then closed out the night by reading to us from her "storybook." I'm not going to go into too much detail regarding how her story went, but let me just say it involved Nine Inch Nails' "Closer" and some interesting fun with shadows. Check out some of the images from the highly enjoyable evening below (click to enlarge).




posted by Adam Bernard @ 7:49 AM