Constantine Maroulis @ Stereo in NYC
Friday, August 10, 2007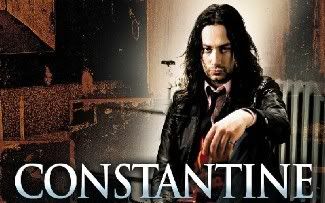 Album release parties usually fall into one of two categories; awesome fun, or incredible disappointments. I can remember a Tony Touch album release party that was so out of control I don't know how I got home from it, and I can also remember a Swizz Beatz album release party that was so awful even the guest of honor didn't show. Tuesday night's event for former American Idol contestant, and star of both Broadway and television, Constantine Maroulis was most definitely the former rather than the later. Here's what went down.

The story of this party actually starts with my train ride in which featured a great conversation with a beautiful woman and an appearance by a former co-worker of mine that I hadn't seen since 2002. This former co-worker always had a unique sense of humor and was working on quite the funny story, getting the entire car involved with it, including both me and the beautiful woman I was talking to. Once we all parted ways at Grand Central I took a few subways to get as close I could to the club. Stereo is on the west side, which is always a bitch to get to. There's no way you can avoid walking at least 15 blocks unless you take a taxi. I made my way there, though dripping with sweat as it was an awful evening weather-wise, and was promptly greeted with one of the nicer sets of hellos I've received in a while.

Three of my contacts were outside the club, one of whom I'd seen a number of times, one had seen my pictures on MySpace as well as this site, and the third was someone who only knew me over email. The combination of a "haven't seen you in a while, glad you made it" hello with two "so we finally meet" hellos was great. The irony came only seconds later when after all three had said my name the bouncer still asked for my ID.

Once inside I grabbed a water and a mixed drink (the water lasted all of four seconds) and made my way to the area where Constantine was hanging out. As I was making my approach he saw me and, recognizing me from my pictures on MySpace, greeted me with a big "Hey! Live and in the flesh!" After our interview a few months ago we'd sent a few notes back and forth, but I honestly didn't expect him to recognize me off of that. It was a very pleasant surprise.

Constantine performed a half hour set at around a quarter after nine (reasonable hours rule!). Musically he tried out a little bit of everything, showing off his ability to take on a number of styles of music, from contemporary rock, to pop, to ballads. I was most impressed with the fact that after only one chorus he could get the entire crowd singing along with him. As anybody who writes music knows, a catchy chorus is one of the most difficult parts of a song to pen.

During Constantine's set I spoke with some of the other folks there; another writer, a photographer, and an actress named Nicole Forester who stars on the CBS soap opera Guiding Light. I don't watch much in the way of daytime TV, but for some reason Nicole looked very familiar to me. She reeled off a list of shows she'd been on and I reeled off the short list of shows I watch. Nothing matched, so I imdb-ed her the next morning and figured out where I knew her from - the short lived, but incredibly funny, Shasta McNasty. (Those of us who saw it know it was amazing)

After Constantine was done and I had told him "great show" I made my way out. Most of the people I had been speaking with were leaving at that point, as well. The party kept going, but I was going home. Rather than walk to the subway and potentially miss the 11:22pm train I took a cab and arrived at Grand Central with plenty of time. I sat down in a train filled with fellow Mets fans. We'd played the Braves at Shea that night (unfortunately we hadn't play well) and everyone was making their way back to their respective homes. Next to me were a father and son who had been at the game. They were only a handful of years younger then my dad and I and reminded me greatly of the many games we've been to over the years. We spoke for the entire train ride home.

I wanted to stop by my buddy's radio show after I got off the train, but realized I had left my radio station ID in my other wallet. It was OK, though. I'd had a fantastic evening, managed to get two awesome pictures (one of me with Constantine and one of me with Nicole), and I was home at a semi-reasonable hour (anything before 2am is reasonable to me). That, my friends, is what you call a successful night!
posted by Adam Bernard @ 7:45 AM