A Party For Kool Herc's Fly New Ride
Friday, October 20, 2006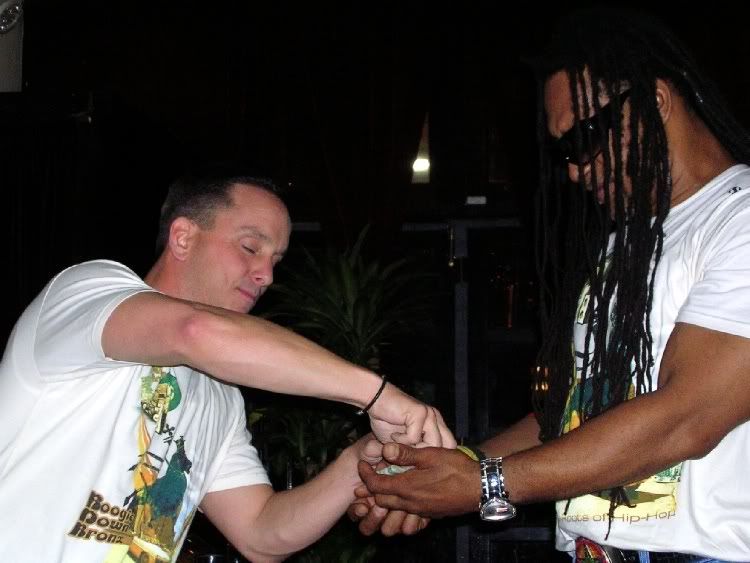 Rob G hands Kool Herc the keys to the car


On Tuesday night DJ Kool Herc was honored at Fashion 40 in NYC and given the keys to his new and improved Blue Butterfly and you know when an event like that goes down I have to be there. Yeah, I know, I just had a crazy party till all hours of the morning on Saturday night, but this is Kool Herc we're talking about! In addition to the Herc appearance Agallah and Substantial were set to perform at the event and my boy Ope put it all together and was hosting it. Those area reasons enough individually for me to ride the Metro North train in again, so when they were all put together, shoot, I was at the spot right at nine looking to meet up with folks, and meet up I did. Quite a few legends were in the house and that was just the start of it.

When I arrived at Fashion 40 fashionably on time there were only a few dozen people at the bar. The number would grow to wall-to-wall packed by the time the festivities began. I'm glad I got there early, however, as I had the opportunity to see, greet, and take pictures of the various celebs as they came in. I met up with Agallah, who I recently got into Elemental, and we talked for a bit and watched the Mets game on the TV's by the bar. The other big Mets fan that was in attendance was Freedom Williams, formerly of C+C Music Factory. Yeah, I was watching game five of the NLCS with Agallah and Freedom Williams. That's a story that's never going to go away, folks. What do I always say? Ya gotta get out to get those great life stories and that, my friends, will rank as one of mine.

The legend list grew as the night went on. Kool Herc was obviously in attendance, as was Roxanne Chante and Grandmaster Caz. UVInk's Substantial and Fresh Daily were there, as were a number of DJs. DJ Rhyno and DJ Synapse were the on the turntables for the night, only playing music from before 1995, and one of them was rocking a hilarious "fuck off I'm mixing" t-shirt. Fellow journalist Starrene "Soopa Starr" Rhett was in the house and joined me in furiously taking notes throughout the night. In addition to those folks DJ Equal and the president of the NYC Arts Cypher Charlie B (no, no relation to my radio name, Adam B) were also there to show support. The tallest man in the building by far was former Knicks player Jerome "Junkyard Dog" Williams, who, at 6'9'' was easy to notice. Rob G from Wheel Concepts Nation was also in the spot to personally hand Herc the keys back to his ride.

The story goes a little something like this; Herc's car, the Blue Butterfly, was a mess. Rob G heard about it, took it in and did some work on it, OK, he did A LOT of work on it. After spending around five months with Herc's ride Rob G decided it was officially done. He told Herc that he had a bill for him on this night, saying he spent around 10 G's to fix up his ride but was only going to charge Herc a dollar. Someone from the crowd even handed him the dollar. Now that's respect! Herc then mentioned that there's a certain DJ who acts like he invented the car game that owes him a thank you for all the work he's done. He didn't name names, but let's just say the crowd knew who he was talking about.

Agallah and Substantial each performed a handful of songs at this event. Stan opened, but only after Herc publicly lauded him on stage, even mentioning how he DJed Substantial's wedding. DJ Kool Herc a wedding DJ? Only for a select few. After Stan's set I even caught Herc telling him "I love what you're doing." Agallah followed with a number of songs off of his recently released You Already Know album and clad in one of the most colorful outfits I've ever seen he had the crowd's attention quickly and held it. Then again I expected nothing less from these two MC's.

Overall it was a night to see some of Hip-Hop's greats both past and present. It was also a night to watch the Mets with Agallah and Freedom Williams. Seriously, I told you, I'm gonna tell that story for years. Congrats to Ope for putting together a fantastic event and congrats to Herc for getting his ride made over.

For pics from this event check out the gallery at Imagestation.com

Side Note: Last night's game seven completely ripped my heart out. With Oliver Perez pitching so well and Endy Chavez showing off his gold, no wait, make that platinum glove we had no excuse to lose that game, our lineup just stunk. We blew a number of opportunities to break the game wide open and watching Carlos Beltran strike out looking with the bases loaded in the bottom of the ninth down by only two was one of the worst moments ever. I will eventually do a write-up on the year that was, but I need to let this feeling subside a bit first.
posted by Adam Bernard @ 8:28 AM